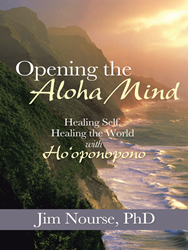 I want people to know that this simple, ancient wisdom still works and is applicable to the complex issues we face today.
Asheville, N.C. (PRWEB) April 24, 2014
Ho'oponopono (HOH-oh-POH-noh-POH-noh) is a long and strange word to non-Hawaiians. Meaning "to make right," it is an ancient Hawaiian practice with world-wide relevance, perhaps now more than ever. The practice offers an alternative to feeling powerless to effect change, whether in ourselves or in our world. It answers the question, "what can I do to help?"
In this book, Opening the Aloha Mind clinical psychologist Jim Nourse explains how and why. Nourse has been personally practicing Ho'oponopono, as well as with his clients, for the past eight years. He learned the method from Hawaiian psychologist Dr. Hew Len, who became known worldwide when its use in Hawaii State Hospital virtually eliminated violence in the high security area that housed and treated some very dangerous patients with mental illnesses.
In a heartfelt way, through stories and wisdom teachings, Dr. Nourse presents his understanding of the method and philosophy, its place in history and in the Hawaiian culture. It also shows how this process has the potential to heal our troubled world.
"Ho'oponopono has the remarkable capacity to effect positive change in the world by working on oneself," Nourse said.
Early in his career, Nourse aligned himself with transpersonal psychology, a school of thought that values the spiritual aspects of human experience. He became passionately interested in Hawaii through some extraordinary experiences while on the islands.
"The teachings of native elders and healers have been as important to me as my doctoral education," Nourse said. "I want people to know that this simple, ancient wisdom still works and is applicable to the complex issues we face today."
For more information, visit http://jamesnourse.com.
"Opening the Aloha Mind"
By James Nourse, Ph.D
ISBN: 978-1-4525-9100-2
Softcover price: $13.99
Available in softcover, hardcover, e-book
Available on Amazon, Barnes & Noble and BalboaPress
About the author
Jim Nourse, Ph.D., L.Ac. has practiced clinical psychology for forty years and classical Chinese medicine for ten years. His career has been devoted to studying, practicing and integrating ancient and modern approaches to healing and problem-solving. This is Dr. Nourse's second book. His first is Simple Spirituality: Finding Your Own Way. He lives in Hendersonville, NC with his wife Judith and his cat Charlie.
**FOR IMMEDIATE RELEASE**
For review copies or interview requests, contact:
Matthew VanScoik | mvanscoik(at)bohlsengroup(dot)com | 317.602.7137
(When requesting a review copy, please provide street address)