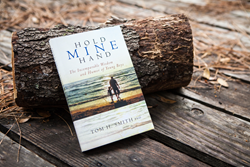 "In the midst of the challenges of parenting, Hold Mine Hand reminds us of the privilege and rewards of having little ones."
Bass Lake, CA (PRWEB) May 15, 2014
In Hold Mine Hand, Smith shares hundreds of his sons' quotes from his personal journals to reveal what they consider most important: parents, family, God, grandparents and friends. The title of the book comes from an early conversation involving Ryan and Justin, Tom's two oldest sons: Ryan: "Jar Jar [Justin] is my big bruvver. I stick wif him. Help me, Jar Jar! Hold mine hand!"
Smith is an expert in experiential education. In his work for Summit Adventure, he uses outdoor adventure activities to create environments that facilitate relationship building. For example, through techniques such as climbing up and rappelling down large rock cliffs, Smith's courses create the perception of danger, which drives parents and their children to trust one another more, to communicate on deeper levels, and greatly improve their overall relationships.
Smith's mastery of experiential education is evident in Hold Mine Hand. He demonstrates the value of environments that limit distractions and help parents and children focus on their relationship with each other. Smith closes his chapters with tips and techniques–learned during his decades of experience facilitating relationship building—to help parents connect more meaningfully with their children.
"In the midst of the challenges of parenting, Hold Mine Hand reminds us of the privilege and rewards of having little ones. The book reveals their worth and dignity- the power God has given them to make powerful and lasting contributions to our well-being if we will listen and pay attention," said Peter Bergeron, philosophy professor at Loyola University of Chicago.
Hold Mine Hand was written to offer "inspiration and renewal to other parents struggling to raise children amid a messy world," wrote author Tom Smith. Often funny and sometimes tragic, Hold Mine Hand applies fresh and unforgettable insights to everyday parenting and life.
About Tom Smith:
Smith is the Executive Director of Summit Adventure, a Christian outdoor ministry that uses adventure-based experiences to bring people closer to God and each other. Smith has a Ph.D. in Educational Foundations from the University of Colorado-Boulder. He has worked as a consultant for a wide variety of corporate and educational clients, including NASA, the Wharton School of Business, Johns Hopkins University and Toyota.
More information about Hold Mine Hand, including sample readings, is available at http://www.holdminehand.com.
Smith is available for media interviews.