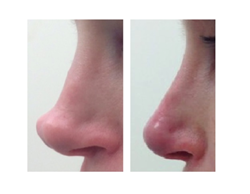 With all the advances in cosmetic dermatology, patients who would never or cannot consider surgery now have a comparable option.
New York,NY (PRWEB) April 30, 2014
Julie E. Russak, M.D., FAAD - Top 3 Off-Label Cosmetic Procedures on the Rise
A Board-certified dermatologist and assistant clinical professor at Mount Sinai Medical Center, who was named a "Super Doctor" by The New York Times, Dr. Russak understands the importance of enhancing her patients' individual beauty. "Everyone is uniquely beautiful. It's about cosmetically enhancing your natural features, not radically altering who you are." - Dr. Julie Russak
Cosmetic dermatology advancements have made it possible for all patients to have non-invasive procedures performed with next to no downtime. Many of these advancements have been found to resolve many different aesthetic concerns, not just the specific area it is specifically indicated for. For example, a dermal filler may be indicated for a specific area, such as adding volume to facial wrinkles and folds on the skin. Filler can also add volume where a wrinkle isn't present, but to correct and contour the face. "It's remarkable how fillers can immediately correct under eye hallows, create a sleek nose, or even enhance the chin," says Dr. Russak. "The field of dermal fillers has grown significantly in the last year allowing us to do things that were achieved only with surgery in the past."
1) Non-Surgical Rhinoplasty - "Many people use non-surgical nose correction to disguise a slight hump on the bridge of their nose, increase the height of their bridge or reshape the tip without permanent lifelong commitment. Many people are using the liquid version as a stepping-stone to having surgical rhinoplasty, to get an idea of what they would look like. It's also a solution for people who have had surgery, and now require revision. Many issues that arise from plastic surgery gone wrong can be corrected using dermal fillers to minimize the defect.
2) Tear Trough Filler - Treating under eye hallows with dermal filler is the quickest and immediate aesthetic pick-me-up. "Deep, under eye circles can age a patient significantly, also resulting in a permanent tired look," says Dr. Russak. "I am seeing a trend of many young patients who want to look their age and diminish the hollowness they inherited. It's also a safer alternative to fat grafting or fat transfer." Currently, there is no filler FDA-cleared specifically indicated for treating under eye hallows, however, Belotero Balance and Restylane have proven very effective.
3) Ultrasound Body Tightening - Ultherapy uses ultrasound waves to target the deepest layers of skin and stimulate collagen growth, promoting natural lifting and tightening of the skin. Although Ultherapy is currently indicated for the face and neck, we have found it to be very effective in treating lax skin on the knees, elbows, and chest. "This nonsurgical option can tone, tighten, and lift the skin on areas of the body once untouchable," says Dr. Russak. "Additionally, we can even preform a non-surgical butt lift using the ultrasound technique and minimize the appearance of cellulite."
Certain concerns are best addressed with surgery, such as severe hooding of the lids or extreme laxity on the face or body. Other concerns such as minimizing a slight bump on the bridge of the nose, defining a chin or tightening lax skin be significantly enhanced using new, non-invasive developments. "Most of my patients are busy professionals, so it's very important that we offer effective procedures that require next to no downtime," says Dr. Russak. "With all the advances in cosmetic dermatology, patients who would never or cannot consider surgery now have a comparable option."
About Julie E. Russak, M.D.
Dr. Russak is a board-certified dermatologist, a Fellow of the American Academy of Dermatology, and a member of the American Society of Dermatologic Surgery. She graduated with honors from New York University School of Medicine and completed her dermatology residency at the Dartmouth Hitchcock Medical Center, where she served as chief resident. She completed an Oncology Melanoma Fellowship with world-renowned melanoma expert Darrell Rigel, M.D., and is the recipient of the Marianne Salzberg Award in Dermatology and the Jonas E. Salk Scholar Award. In addition to having a thriving practice, she is an assistant clinical professor at Mount Sinai Hospital, where she teaches dermatology residents and medical students.