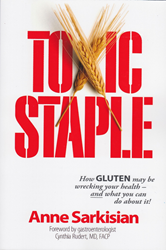 An outstanding book [that] should become a definitive resource on gluten intolerance.
New London, NH (PRWEB) April 24, 2014
Anne Sarkisian's Toxic Staple: How Gluten May Be Wrecking Your Health and What You Can Do about It! has been named the recipient of four awards administered by the Independent Publishers of New England (IPNE) for 2014. The book is being recognized as a winner in the following categories: Book of the Year, Informational Nonfiction, Cover Design, and Interior Design. In addition, it has been named a finalist in the category of Promotion. IPNE is a nonprofit trade association offering opportunities for education, networking, and marketing.
An "outstanding book [that] should become a definitive resource on gluten intolerance" (ForeWord Reviews), Toxic Staple has been receiving a lot of attention lately. "Sarkisian raises valuable awareness not only about celiac disease, but also about non-celiac gluten intolerance," says Martha Bishop Pitman, MD. "Toxic Staple is on the cutting-edge of the topic. It's a must-read for physicians and patients alike."
Anne Sarkisian began researching many of the 300+ symptoms and diseases linked to gluten in 2004. Her conclusions, the result of amassing a wealth of useful and eye-opening information, culminated in the publication of her new book, published by Max Health Press. Sarkisian says the company "was established to specifically get the word out about the insidious and degenerative effects of gluten hampering the health and life of millions of people."
Toxic Staple goes beyond celiac disease to discuss gluten intolerance; it empowers readers who might not realize they are gluten sensitive to transform their health with cutting-edge testing and powerful research.
The book makes effective use of first-person stories, giving voice to individuals from a wide range of lifestyles, whose lives changed dramatically for the better once they and their loved ones stopped ingesting gluten. To that extent, Toxic Staple is a book of hope and empowerment—a compendium of success stories built on a foundation of prodigiously researched medical knowledge.
Anne Sarkisian is an advocate for celiac disease and gluten-intolerance awareness. She has spent ten years researching literature, interviewing patients, and interacting with leading medical professionals around the world. She is a graduate of the University of New Hampshire and taught elementary school before leaving the teaching profession to raise her family.
For more information, please visit: http://www.toxicstaple.com and http://www.youtube.com/watch?v=F3zDNKIM4lg.
Media contact: Victor Gulotta
Gulotta Communications, Inc.
617-630-9286
http://www.booktours.com
victor(at)booktours(dot)com