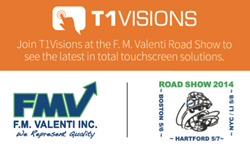 Join T1Visions at the F. M. Valenti Road Show to see the latest in total touchscreen solutions.
Charlotte, NC (PRWEB) April 24, 2014
T1Visions, a provider of interactive touchscreen experiences, has signed on F. M. Valenti as the Northeastern Territory Representative covering all T1Visions technology from New Jersey to Maine. T1Visions will be joining the F. M. Valenti Road Show this May 6, 7, and 8 to showcase its 32" inTouch™ Standard Table, 80" inTouch™ Interactive Wall, and accompanying inTouchPad iPad application.
The F. M. Valenti Road Show presents T1Visions the opportunity to exhibit its multitouch, multiuser software, specifically for corporate, event and exhibit, and education markets. The 32" inTouch Standard Table utilizes an HD touchscreen running T1Visions' standard suite of software applications, including Media and Presentation Viewer, Digital Whiteboard, and various touch-based games to engage its audience. On a larger scale, the 80" inTouch Interactive Wall is a single touchscreen that provides a shared surface for users to interact with content with high visual impact.
The inTouchPad iPad application ties in to both of these products, allowing sales associates to interface directly with the customer on the iPad, while using the larger touchscreen surfaces to display images, reports, marketing materials, and more. The inTouchPad iPad application is fully customizable to match the content on the Table and Wall – tying together all three devices to create a virtual showroom in any location. To monitor usage, activity tracking and analytics are available on all inTouch products.
"F. M. Valenti has been a leader in representing premier technology companies for the last 46 years…" says Dave Aichele, Executive Vice President of Sales and Marketing with T1Visions. He continues, "…When it came to finding a partner with the connections, history, and reputation within the industry, F. M. Valenti was unmatched. And, we felt that our products complemented their existing line very well."
Click here to register for the F. M. Valenti Roadshow, appearing in these locations:
May 6, 2014: Boston, Massachusetts
May 7, 2014: Hartford, Connecticut
May 8, 2014: New York, New York
About T1Visions
T1Visions creates interactive touchscreen experiences. Deliberately large in size and incredibly durable, our inTouch™ Platform includes tables and walls, along with complementary digital signage and mobile device integration. Our products are powered by proprietary multitouch, multiuser software that transforms public spaces into more dynamic environments. The T1Visions team is made up of design, engineering, business and technology minds alike - resulting in unrivaled support to our customers from start to finish.
Based in Charlotte, NC, T1Visions works with retail, events and exhibits, corporate, hospitality, and education markets around the globe. Visit http://www.t1visions.com to learn more about our products and how we can work with you and your industry.