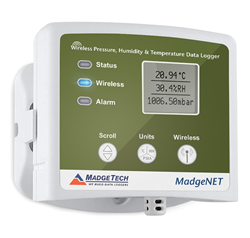 warner, NH (PRWEB) April 24, 2014
In addition to weather monitoring or industrial storage applications, clinical laboratories and clean rooms can utilize the RFPRHTemp2000A to measure and maintain critical pressure, humidity or temperature levels, all with one device.
This 2000A wireless series logger is designed with external humidity, temperature and pressure RTD sensors. The device provides a fast response time for all three parameters. This device is capable of NIST traceable calibration with certification. Designed with built in memory, the RFPRHTemp2000A securely stores valuable data up to 10,752 readings per channel.
As with all MadgeTech Wireless Data Loggers, you can start, stop and download your data wirelessly, creating efficiency and allowing less time maintaining the data logger. Real time data can be transferred to a central PC or recorded data can be downloaded at periodic intervals.
The added benefit of a digital display provides current readings in addition to minimum, maximum and average statistics. The new statistic manual reset feature, now standard with all 2000A series data loggers, allows the user to reset the statistical count directly on the logger. This feature retains all recorded data, and allows users to easily track values within a certain range of time without accessing the software. When your measured environment exceeds desired thresholds, notifications can be configured as an audible alert or an LED warning for users within close proximity to the logger. Other notifications such as email, on-screen and text message alerts can also be configured.
This wireless data logger can be utilized as a single standalone logging system or can be expanded to a larger scale system that can include hundreds of other loggers (additional MadgeTech wireless data loggers and transceivers may be required).
The RFPRHTemp2000A uses the latest MadgeTech 4 software, available to download free from http://www.madgetech.com. MadgeTech 4 is an all-in-one package for storing files, creating formal reports, and performing in-depth analysis. Data downloaded from all data loggers is automatically saved to the internal file database within the MadgeTech software, ensuring original records are always maintained. Customizable graphical, tabular and statistic reports can be created to present to clients, auditors, or kept for a physical archive. The software features the ability to export to Excel®, data annotation, digital calibration and more. The RFPRHTemp2000A is priced at $399.00 USD, discounts available for quantities. For more information please visit http://www.madgetech.com or call (603) 456-2011.