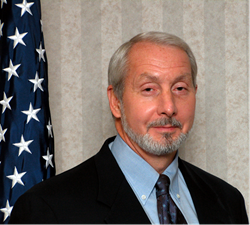 Alexandria, VA (PRWEB) April 25, 2014
Ron Sanders, Vice President and Fellow at Booz Allen Hamilton, is serving as the 2014 chair of the board of directors for The Bureaucrat, Inc. (TBI), a not-for-profit organization that publishes The Public Manager and holds events for public service professionals. TBI is affiliated with the American Society for Training & Development (ASTD) and its purpose is to further knowledge and best practices in government management.
Previously serving on the TBI and ASTD boards, Sanders' role in Booz Allen takes him to the firm's various market segments to help key clients in the United States and overseas deal with their most significant human capital challenges. He focuses primarily on cyber human capital, leadership development, organizational transformation, and human capital strategy.
"I am honored to continue working with the TBI board of directors in this capacity," Sanders noted. "With my fellow board members, editorial advisors, and publishing staff, we're committed to delivering content that provides timely, substantive information on the art (and the science) of public management, but always with a practical, 'here's how to do it' dimension," he continued.
Prior to working at Booz Allen Hamilton, Sanders held senior executive positions at numerous federal agencies. He was most recently the Associate Director of National Intelligence at the Office of the Director of National Intelligence and previously served as the Associate Director for HR Policy at the Office of Personnel Management (OPM), Chief HR Officer at the Internal Revenue Service (IRS), and Director of Civilian Personnel at the Department of Defense (DOD).
Joining Sanders on the TBI board are new directors:

David Bray, CIO, Federal Communications Commission
Chuck Grimes, former COO, Office of Personnel Management
Kathryn Medina, VP of HR and Global Talent, APCO Worldwide (former Executive Director, CHCO Council)
Marlise Streitmatter, Senior Consultant, LMI
Reginald Wells, CHCO, Social Security Administration
Board members with continuing terms include:
Carrie Blustin Cross, ASTD
Anna Doroshaw, Federal Aviation Administration
Jennifer Homer, ASTD
Jim Huske, formerly Graduate School USA
Andrew Krzmarzick, GovLoop
Andrew LaVanway, O'Keeffe & Company
Christopher Mihm, Government Accountability Office
Jenny Mattingley, Shaw Bransford & Roth
John M. Palguta, Partnership for Public Service
Tyler Robinson, Young Government Leaders
Bob Tobias, American University
Lena Trudeau, General Services Administration
For more information about The Public Manager, visit http://www.thepublicmanager.org.