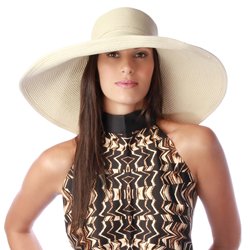 Kentucky Derby Hats can be both sun safe and fashionable
San Rafael, CA (PRWEB) April 24, 2014
The Kentucky Derby is a hot ticket in Spring. It's known not only for its fast horses, but also for the extravagant hats worn by its patrons. SolEscapes supports the fun tradition of glamorous Kentucky Derby hats while also keeping attendees safe from the sun. Kentucky Derby sun hats from SolEscapes will be spot on at "the fastest two minutes in sports" this Spring.
One role of the Kentucky Derby hat is style; it makes a statement. Another role is providing protection from the harmful rays of the sun. The Kentucky Derby is held in May, with the Southern sun beating down on the spectators. A good wide-brimmed hat protects the face from UV rays, which can potentially lead to sunburn, skin cancers and premature aging. While this is a practical task, a great sun hat need not look utilitarian. SolEscapes has a large selection of sun hats that offer excellent sun protection as well as high style. Here are a few of the Kentucky Derby sun hat options that SolEscapes carries:

Southern Charm has pretty colors and a big bow. It has a 50+ UPF rating and 5" brim size, giving it maximum sun protection. With soft materials and an adjustable head size, it's comfortable to wear. It comes in three colors: pink, ivory, and black/taupe. Packable. $42.50 by Physician Endorsed
Belladonna is a glamorous sun hat. It has an ultra-wide 7" picture brim that flops gracefully around the face. Made from paper straw, it has an adjustable head size, 50+ UPF sun protection and is packable. It comes in gold, black or ivory. $70.00 by Gottex by Physician Endorsed
Olivia is quite charming with a wide ribbon trim in black or white. Made from 100% Toyo Straw, it is rated UPF 50+ and has an adjustable interior headband. $50 by Profile by Gottex
Vivienne has a wide, downturned 6" brim. It's made from straw, and the elastic headband provides a comfortable fit. It comes black or natural (both with a black ribbon trim) or natural with a white ribbon trim. $99.00 by Gottex
Audrey is made of fine Milan straw. The lampshade shape and 5" brim give a stunning, glamorous look as well as superb sun protection. The inner band is elasticized for comfort and fit. Audrey comes in 3 colors: navy, black and natural. $225 by Gottex
Since its inception in 1875, the Kentucky Derby has been associated with glamour and fashion. Through the first half of the 20th century, women would wear their finest gowns with coordinating hats and gloves. Attire would reflect the contemporary fashions, and hats were always a must. In fact, hats were a must not just at the Derby, but anytime a lady left the house. In the middle of the century, this long standing rule loosened up, and going out with a bare head became common. But old traditions held fast at the Kentucky Derby, and women continued to wear elegant hats there. As the years progressed, this tradition flourished, with the hats getting bigger, bolder and more extravagant. Presently, the institution of the Kentucky Derby hat is as strong as ever.
A fashionable sun hat is the first step in preparing for the hot sun of the Kentucky Derby, but a full sun care regimen also includes sunscreen, sunglasses, and a sun umbrella. SolEscapes carries COOLA sunscreen, a high quality broad spectrum product available in several scents and formulations. Sunscreen should be applied liberally and reapplied every 2 hours. Sunglasses should be designated UV 400, indicating the lenses block 100% of harmful sun light. SolEscapes' JBK line of sunglasses protect the eyes, are very glamorous, and would complement a Kentucky Derby ensemble. Derby attendees in the 19th century would have used a parasol, and it's still a wonderful way to provide portable shade. Persolé sun umbrellas are made from luxurious materials, giving a glamorous look while providing 50+ UPF protection.
SolEscapes is a California based online boutique offering a unique selection of stylish and practical sun, beach and resort essentials for all warm weather needs. SolEscapes offers personalized service, high quality products and fast, affordable shipping. Merchandise, including all beach hats, is carefully and beautifully packaged to ensure a perfect arrival. For more information, please visit SolEscapes.com. You can also connect with SolEscapes on Facebook, Twitter and Pinterest.