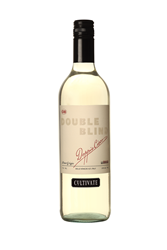 "When I scouted fruit for our 'Double Blind' Pinot Grigio, I was looking for grapes that could give you that proper Italian Pinot Grigio taste," noted Nat Gunter, Cultivate's Director of Winemaking
New York, NY (PRWEB) April 25, 2014
Ali and Charles Banks, creators of the popular wine collection Cultivate, have announced the addition of a new label to their list of global value offerings. Spring 2014 will see the launch of 'Double Blind', an Italian Pinot Grigio from the famed alluvial soils of the Delle Venezie region.
Scouring the region for the best fruit sources for 'Double Blind', Nat Gunter, Cultivate's Director of Winemaking, traveled far and wide but eventually settled upon a group of Pinot Grigio vineyards nestled in the cool hillsides of northeastern Italy for the wine.
"Pinot Grigio is one of the most authentic and exciting wines to drink when made in its home in the northeastern corner of Italy," noted Nat Gunter. "When I scouted fruit for our 'Double Blind' Pinot Grigio, I was looking for grapes that could give you that proper Italian Pinot Grigio taste. The fruit had to be bright, driven and crisp with marzipan/citrusy elements that speak purely of its origin. Only grapes sourced from the right regions in Italy can give you this flavor profile."
'Double Blind' Pinot Grigio is a fresh, vibrant, and aromatic white wine that will retail for $14.99 in stores nationwide. The generally cool 2013 vintage yielded expressive aromas of honeydew melon, tangerine, lime blossom, kefir lime leaves and green apple. On the palate the wine is medium-bodied with a bright acidity and a medium finish.
'Double Blind' will join the existing portfolio of Cultivate labels ('Wonderlust', 'Copa Cabana', 'The Gambler', 'Dream Walking' and 'The Feast') in Terroir Selections' house wine series.
Cultivate Double Blind Pinot Grigio 2013
Suggested Retail Price: $14.99
Importer: Terroir Selections
About Cultivate (http://www.cultivatewines.com)
Founded by Ali and Charles Banks in 2011, Cultivate is an affordable, sharable wine collection that allows people to give back every time they buy a bottle. Featuring wines from regions such as Chile (Copa Cabana, Wonderlust), Argentina (The Gambler), Italy (Double Blind) and California (Dream Walking, The Feast), Cultivate gives back a portion of every sale to help fund opportunity and hope in communities across the globe. Since its launch, Cultivate has donated nearly $500,000 to charities in over 45 communities across the United States.
Cultivate is a member of the Terroir Selections group of wineries that also includes: Leviathan, Mayacamas, Qupé, Sandhi, Wind Gap, Evening Land Vineyards, Maison L'Orée, Mulderbosch, Fable Mountain Vineyards and Trinity Hill.