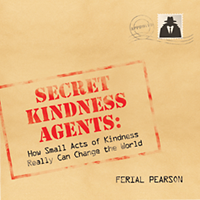 Omaha, Nebraska (PRWEB) April 24, 2014
WriteLife LLC, an independent publishing company headquartered in Omaha, NE, announces the pre-sale of Secret Kindness Agents: How Small Acts of Kindness Really Can Change the World. In the spirit of "Pay It Forward Day", author Ferial Person will donate all net proceeds from the sale of the book to JDRF.
JDRF is the leading global organization funding type 1 diabetes (T1D) research. JDRF's goal is to progressively remove the impact of T1D from people's lives until we achieve a world without T1D. Ferial Pearson and her class chose to donate all net proceeds from the sale of Secret Kindness Agents to JDRF due to a Secret Kindness Agent's diagnosis of juvenile type 1 diabetes while the class was in the middle of their Secret Kindness Project.
Moved by the Sandy Hook Elementary School tragedy, Ferial wondered if a simple act of kindness could change a life. She thought of the school where she taught and the students she guided every day and wondered, what would happen if we started secretly carrying out small acts of kindness in school? Could a modest act of compassion really change the course of a life? She posed the question to her students. They didn't have the answers but they were willing to find out. And so they became the Secret Kindness Agents. They not only changed the lives of those they met, they changed their own. Their hope, their hearts, and their hunger for happiness will inspire you to change your small corner of the world, in your own way, for the better. Let them show you how they did it, and how you can do the same.
Ferial Pearson, a native of Nairobi, Kenya, is a national award-winning high school teacher and college instructor. For her dedicated work in education and human rights, she has earned the National Education Association's Virginia Uribe Award for Creative Leadership in Human Rights in 2012, and the Gay Lesbian Straight Education Network's Educator of the Year Respect Award in 2011. She is an Instructor and Instructional Coach in the Teacher Education Department at the University of Nebraska Omaha.
Secret Kindness Agents: How Small Acts of Kindness Really Can Change the World is available for pre-sale on http://www.writelife.com. Upon the book's release on May 27th, the book will be available on writelife.com, Amazon, Barnes and Noble, and other major book retailers. The book will also be available in Kindle, Nook and Kobo formats.
About WriteLife, LLC
WriteLife, LLC is an independent publisher of trade fiction and nonfiction based in Omaha, Nebraska.
Learn more at http://www.writelife.com/.
Buy WriteLife Books Online - http://writelife.pinnaclecart.com/index.php?p=home
WriteLife on Twitter - https://twitter.com/WriteLifeLLC
WriteLife on Facebook - https://www.facebook.com/WriteLife?ref=hl