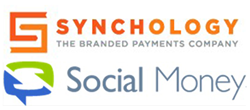 "Whether it's prepaid, a layaway or registry program, or employee benefits, together with Synchology we are using innovation to build a deeper connection with the customer," said Social Money CEO Scott McCormack. "And that leads to a better bottom line."
Chicago, Illinois (PRWEB) April 24, 2014
Synchology: The Branded Payments Company, and Social Money, creators of the award-winning, goal-based saving product SmartyPig, today announced a partnership that gives companies the ability to offer a branded suite of state-of-the-art mainstream financial products on a single turnkey and fully managed platform.
Leveraging Synchology's Branded Payments platform and Social Money's CorePro platform, the partnership enables retailers, consumer packaged goods companies, publishers, associations, not-for-profits, co-brand credit issuers and others to offer an integrated financial services product featuring Visa® prepaid debit accounts, goal based savings, 3rd party funded loyalty rewards and personal financial management tools delivered via high end web and mobile interfaces.
"Synchology's prepaid debit offering has moved well past the mainstream with our Social Money partnership. These consumer benefits are difficult to find together in traditional bank offerings and we're putting the power to offer them into the hands of brands who want to offer their customers an upgrade and drive new revenue," says Doug Bobenhouse, President and Co-founder of Synchology.
Synchology's turnkey white label ready Branded Payments platform features FDIC insured Visa® prepaid debit accounts, personal financial management tools, loyalty and reward earning, budgets and more. Synchology also provides complete program management services including bank issuance, comprehensive reporting, compliance oversight, ID validation and back office management.
Social Money's CorePro platform takes the place of up to seven individual relationships a company would typically need to establish to launch a savings account by providing: bank affiliation, core processing (including ACH), interest accrual and payments, electronic submission of 1099's to the IRS, and all customer account opening procedures in one place using a management portal that includes access to developer APIs and reporting tools.
"Whether it's prepaid, a layaway or registry program, or employee benefits, together with Synchology we are using innovation to build a deeper connection with the customer," said Social Money CEO Scott McCormack. "And that leads to a better bottom line."
Synchology and Social Money will continue to operate as separate entities.
About Synchology
Synchology, LLC was founded in 2009 by financial, technology and marketing veterans dedicated to building a better banking and loyalty experience. Synchology designs, builds and markets partner brandable affinity prepaid debit card accounts with high-end money management tools and compelling reward earning and redemption capabilities. The Branded Payments platform is designed from the ground up to provide brands and consumers a great way to interact to mutual benefit. Synchology has offices in Chicago, IL and Sioux Falls, SD. For more information, visit synchology.com.
Press Contact: press(at)synchology(dot)com, 312.262.2100
About Social Money
SmartyPig, LLC is DBA Social Money. The company's goal-based saving products are centered on proprietary, patent-pending technology that replaces typical savings programs of the past. The award-winning financial services company is headquartered in West Des Moines, Iowa, and has offices in Chandigarh, India.
Press Contact: jon(at)socialmoney(dot)com, 515.326.5874