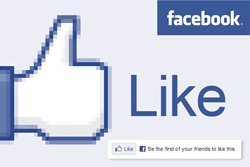 My goal is to empower as many people as I can to change their financial life for the better.
Los Angeles, CA (PRWEB) April 23, 2014
It's no secret that Marc Zuckerberg's Facebook is a leader in the world of social media. Facebook Fan Pages help business owners connect with their audiences around the world. Tyrone Jackson's Wealthy Investor program has recently experienced the power of social media first hand.
"We're happy to have reached one hundred likes per day on The Wealthy Investor Facebook Fan Page," says Jackson. He adds, "This demonstrates two things: First, the power of having a Wealthy Investor Facebook Fan page. Second, Facebook's users are choosing The Wealthy Investor program as their source of acquiring a financial education."
In his program Mr. Jackson teaches self-directed investors how to trade stocks online for monthly residual income. His student's start off learning how to sell covered call options against stocks they own. This trade is low risk and produces results right away.
Many Wealthy Investor students attribute their success to Tyrone Jackson's teaching style and his ability to make complex topics very simple.
Raised in New York City, Tyrone grew up watching his single mother struggle just to pay the bills each month. In his childhood home there was never anything left over to invest. Today, having achieved financial freedom, Jackson says, "my goal is to empower as many people as I can to change their financial life for the better. Our Facebook fan page is helping my organization meet that goal."
You can visit the Wealthy Investor Facebook page by going to: http://www.facebook.com/thewealthyinvestor.
About
Tyrone Jackson, Wealth Coach & Founder of "The Wealthy Investor," has helped hundreds of people project themselves into a wealthy life. Raised by a single mother of modest means across the bridge from New York City, with Wall Street in sight; it might as well have been a million miles away. "We had no money at all," Tyrone remembers of his upbringing. "I'd see on TV all these self-made millionaires. I said to myself, 'This is a great country– how do I do that?'" Tyrone took charge and now splits his time between his estate in upstate New York and his home in Malibu while leading seminars for "The Wealthy Investor" - educating others on how to take control of their financial future.