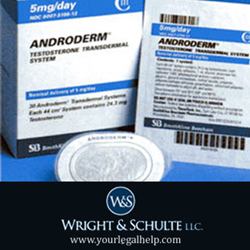 If your believe you have suffered cardiovascular problems due to testosterone treatment drugs such as Androgel, Androderm and Testim, Call Wright & Schulte LLC today for a Free Legal Evaluation at 1-800-399-0795 or by visiting www.yourlegalhelp.com
Columbus, OH (PRWEB) April 24, 2014
An Androderm lawsuit has been recently been filed by an Albany County, New York man. Wright & Schulte LLC has learned the plaintiff in this testosterone treatment lawsuit is seeking compensation for a stroke he alleges he suffered after using the testosterone treatment drug Androderm. This Androderm lawsuit aslo contends that defendants Actavis Pharmaceuticals, Watson Laboratories, and Physicians Total Care, Inc., the manufacturers and distributors of the patch gel containing testosterone, failed to disclose in their advertisements the cardiac or stroke side effects associated with using the testosterone therapy drug. The lawsuit was filed in the U.S. District Court for the District of Nevada (Case No: 2:14-cv-00596)
Our firm is actively investigating and concerned with the amount of recent lawsuits filed against manufacturers of testosterone treatment drugs such as AndroGel, Testim and Androderm. We are currently offering free legal evaluations to those who believe they have suffered strokes or heart attacks associated with these drugs by visiting http://www.yourlegalhelp.com or by calling 1-800-399-9785.
According to the complaint, the plaintiff started taking Androderm after his doctor prescribed the patch for symptoms that the plaintiff attributed to low testosterone. As a result of taking AndroDerm, the plaintiff alleged that he suffered a stroke in April 2011 that caused him to be hospitalized for a week. The plaintiff further alleged that he never fully regained his ability to speak and his memory was badly damage as a result of the stroke.
The Androderm lawsuit also contends that the defendants' marketing efforts convinced men that symptoms they were experiencing from other medical conditions, such as aging and diabetes, may be caused by low testosterone and purportedly encouraged them to discuss testosterone replacement therapy with their doctors. The plaintiff further contends that the defendants created a previously non-existent market for the product, which they advertised as safe and easy to use, but instead caused life-threatening injuries to users of the product.
Court documents indicate more than 30 testosterone lawsuits are pending nationwide against the makers of AndroGel and Testim, which are similar testosterone treatment drugs. The plaintiffs in these complaints filed a motion petitioning the U.S. Judicial Panel on Multidistrict Litigation(JPML) to transfer and consolidate all claims to the U.S. District Court for the Eastern District of Louisiana for pretrial proceedings. The plaintiffs in these lawsuits allege that they experienced serious health problems, including strokes, heart attacks and/or heart failure after using AndroGel and Testim. (In Re: AndroGel Product Liability Litigation, MDL Docket No. 36).
The U.S. Food and Drug Administration (FDA) approved Androderm in 1995 for use as a prescribed drug for treating low testosterone, also known as hypogonadism. Androderm is applied to the upper arms, back, stomach area, and thighs, according to the official website for the product. The FDA issued a safety alert on January 31, 2014, which stated that two studies have prompted the agency to review previously approved testosterone products. In one study, published November 2013 in the Journal of the American Medication Association, older men who had an underlying cardiovascular disease and were prescribed testosterone therapy had a 30 percent increased risk of having a stroke, heart attack or dying over the men who had an underlying cardiovascular disease but did not receive prescribed testosterone therapy.
[myandroderm.com/low_testosterone.aspx#Symptoms],
[fda.gov/Drugs/DrugSafety/ucm383904.htm, January 31, 2014]
Men who used Androderm, AndroGel, Testim or a similar drug may be eligible to file their own low testosterone treatment lawsuit if they experienced serious and life-threatening cardiovascular events during treatment. To learn more, or to arrange for a free legal consultation with an attorney at Wright & Schulte LLC, please visit yourlegalhelp.com.
Wright & Schulte LLC, an experienced personal injury firm, is dedicated to the belief that America's legal system should work for the people. Every day, the attorneys of Wright & Schulte LLC stand up for the rights of people who have been injured or wronged and fight tirelessly to ensure that even the world's most powerful corporations take responsibility for their actions. If you're looking for a law firm that will guarantee the aggressive and personal representation you deserve, please do not hesitate to contact Wright & Schulte LLC today. Free Lipitor lawsuit case evaluations are available through yourlegalhelp.com or by calling 1-800-399-0795.
Contact:
Wright & Schulte LLC
812 East National Road
Vandalia, Ohio 45377
1-800-399-0795
http://www.yourlegalhelp.com
Like us on FaceBook
Follow us on Twitter