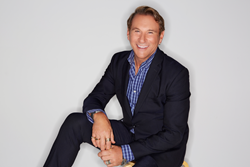 New York, NY (PRWEB) April 24, 2014
Gabriel & Co., one of the US' most prolific fine jewelry brands, announced today that Hal Rubenstein has been named Global Style Director, effective May 1, 2014. Rubenstein, who is leaving his decorated career of two decades as InStyle's Fashion Director at the end of April, will work closely together with Designer and Senior Vice President, Dominick Gabriel and Chief Creative Officer, Berna Gabriel, to curate a series of style initiatives tailored to a new generation of female consumers. Rubenstein, who selected Gabriel & Co. to be the first fine jewelry partner at Hal Rubenstein & Associates, will inaugurate the collaboration at the JCK Show on May 29th in Las Vegas, with a series of exclusive personal appearances and speaking engagements on the brand's behalf.
Gabriel & Co. plans to leverage Rubenstein's unique insight into the female consumer to craft a fresh brand strategy as the company approaches its 25th anniversary this fall. Bringing unmatched expertise in fashion, styling and shopping in today's saturated marketplace, Rubenstein will play an instrumental role in redefining the brand's look, feel and messaging through carefully curated collections, interactive presentations and media campaigns. Integrating his distinctive brand of style savvy with Gabriel & Co.'s bridal and fashion forward fine jewelry lines, Rubenstein will engage and educate women on how to reinvent their personal style and create timeless looks that seamlessly transition from day to evening to special occasion.
"We couldn't be more excited to have Hal Rubenstein join the Gabriel & Co. team," says CEO, Jack Gabriel. "Hal is an asset to our brand and will be instrumental in helping us connect to and design for the 'Gabriel Woman,' whose needs and desires have always been our top priority."
Rubenstein's growing empire, which he started building just over a year ago, includes an eponymous fashion collection sold at HSN, a recurring role as Guest Fashion Director at WWD Magic and Producer of Special Events for the American Express Centurion Card. He is about to launch his own website and has other projects in the works across print, web and television. His fifth book will be published by Harper Collins in the fall of 2015.
"All you have to do is check out my hands or look at my eyes when I'm on the red carpet and spy a great pair of earrings to know that I am happily obsessed with jewelry. Your wardrobe is eventually disposable but jewelry is forever because each piece inspires an emotion and tells a tale. I want to help the beautifully crafted pieces created by Gabriel & Co. become catalysts for thousands of stories of romance and happy memories," states Hal Rubenstein.
About Hal Rubenstein:
Hal Rubenstein was one of the founding editors of InStyle where he served for almost 20 years as Fashion Director and most recently Editor-at-Large. In 2011, he was awarded the Council of Fashion Designers of America's Eleanor Lambert Founder's Award, which "recognizes individuals who have made unique contributions to the world of fashion and/or deserve the industry's special recognition." Prior to InStyle, Rubenstein served as Men's Style Editor at The New York Times Magazine and founded cult classic magazine, Egg. Hal Rubenstein is represented by United Talent Agency.
About Gabriel & Co.:
Gabriel & Co. is an established fine jewelry design house. Founded in 1989 in New York City by brothers Jack and Dominick Gabriel, the aptly named Gabriel & Co. has grown into a world-renowned brand amongst consumers and within the fine jewelry industry. Most recently voted the most preferred and the most profitable brand by both JCK Magazine's Retailer Survey and INSTORE magazine's annual Big Survey, the story of Gabriel & Co. is one of passion, integrity, service and trust. Gabriel & Co. continues to touch the lives of more consumers than any other brand. For more information, visit http://www.GabrielNY.com.