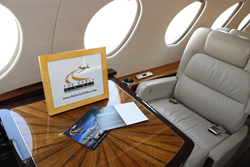 Los Angeles, CA (PRWEB) April 24, 2014
Private Jet Charter firm, The Early Air Way, has announced its TransconJets program, designed to offer point-to-point one-way pricing between the west and east coasts.
Flights between California (especially Los Angeles and the San Francisco Bay area) and New York are some of the most heavily requested in the jet charter industry. With this program, charter passengers are exempt from having to pay significant repositioning fees for their one-way flights and will almost never see daily minimum surcharges, resulting in some of the strongest occupied hourly rates in the industry.
The strong occupied hourly rate for TransconJets flights is the result of high consumer demand on the cross-country market. Essentially, the odds of finding another passenger to take the plane back across the country are much higher than they would be on other routes, allowing charter companies to offer true one-way pricing on a regular basis without having to wait for an empty leg, or repositioning aircraft.
The Early Air Way's one-way flights across the country will start at about $16,000.00 + tax on a light jet (with a fuel stop), $19,000.00 + tax on a midsize jet, $20,000.00 + tax on a SuperMid jet, and $29,000.00 + tax on a Heavy Jet when availability is unusually good. The trip will average about $25,000.00 + tax on a SuperMid jet and $40,000.00 + tax on a Heavy jet, the two sizes with the most one-way availability as they're the most demanded.
"The market has seen all sorts of talk about per-seat private jet charters to cross the country for the price of a business class seat, none of which is either real or sustainable. Point-to-point one-ways such as these are a real and valuable instrument that consumers will be able to get on a pretty consistent basis," explains the firm's founder, Alex Early.
About The Early Air Way
The Early Air Way is a private jet charter brokerage firm based in Los Angeles, CA with a global focus. In business, since 2007, the firm is a Wyvern Authorized Broker of jet charter services and proudly offers aircraft and crews that are safety rated by both WYVERN and ARG/US. The Early Air Way's clients consist of Fortune 500 companies, government entities, celebrities, and many regular private aviation consumers. The firm boasts that it offers the most educated and honest advice on the market to support its jet charter options, all at a very fair price.