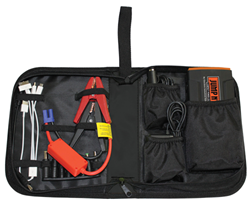 People have become increasingly aware of keeping an emergency kit in their car—including portable battery chargers.
Broomfield, CO (PRWEB) April 24, 2014
"Even residents of Canada and in many parts of the Northern U.S., who generally are used to winter conditions, have been hard hit these last several months," says Ray Torres, President and CEO of Colorado-based Checkers Industrial Safety Products. "People have become increasingly aware of keeping an emergency kit in their car—including portable battery chargers."
According to Torres, Checkers has recently released a white paper detailing the considerations consumers should analyze before selecting a portable battery charger for personal use. Those things which should be taken into account, according to the paper,
include the size of the device, its ability to power multiple devices if needed, how quickly the unit can be charged or recharged, and how easy it is to utilize.
"If a charger is large or heavy, most people simply won't carry it with them," he says. "Finding a unit that can fit easily under the seat, in the glove box, or even in a purse where a person can access and confidently use it is extremely important."
Although not mentioned in the white paper available at https://www.checkersindustrial.com/blog/portable-battery-charging-units-key-to-safety-in-e/, Torres says that Checkers Industrial Safety Products has recently introduced a new product to their line-up, called the JUMP N' GO. Measuring just 6.125" x 3" x 1.125", this compact power charger is strong enough to charge the battery of V-8 trucks as well as boat, motorcycle and ATV batteries. It can jump start up to 12 vehicles on a single charge, while also having the capability to charge mobile phones, laptops and other electronic devices.
Additional information about the Jump n' Go, can be located on the company's website http://www.checkersindustrial.com.
About Checkers Industrial Safety Products
Checkers takes the safety of people and property very seriously. They introduced a heavy duty wheel chock for the mining industry as their first product back in 1987, and are now one of the world's most trusted manufacturers of safety products, including cable and hose protection systems, wheel chocks, warning whips, warning lights and more. According to Jesica Bailey, Checkers' Director of Marketing, "Our success is the result of our commitment to educate industries to view safety as an investment and not a cost." To learn more, visit http://www.checkersindustrial.com.