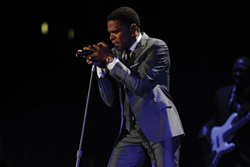 "This time of year is a wonderful time for Maxwell to make his debut in Aspen, during the Food & Wine Classic in Aspen and Jazz Aspen Snowmass's June Festival."
(PRWEB) May 22, 2014
Aspen, CO – Neo-soul Grammy-winning artist Maxwell will perform at Belly Up Aspen on June 19. The appearance will mark the singer's first-ever performance in Aspen. Maxwell's 37-date Summer Soulstice Tour – his first major tour since 2010 – will take him across North America; his appearance at Belly Up Aspen will be the fourth stop on the tour.
"This time of year is a wonderful time for Maxwell to make his debut in Aspen, during the Food & Wine Classic in Aspen and Jazz Aspen Snowmass's June Festival," said Erin Heintz, director of sales and marketing for Belly Up Aspen.
The concert falls on the eve of the Food & Wine Classic, which officially starts in Aspen on June 20, and the 24th Annual Jazz Aspen Snowmass June Festival.
During his 23-year career, the Brooklyn-born Maxwell has been nominated for twelve Grammys; in 2010, he won awards for Best R&B Album (for BLACKsummers'night) and Best Male R&B Vocal Performance (for "Pretty Wings"). Maxwell has had seven singles on Billboard's Hot 100 list, and has been featured in The New Yorker, Rolling Stone and Vibe magazines. His songs have been included on several movie and television soundtracks, among them Love & Basketball, Sex and the City (TV series) and Stomp the Yard. Over the years, Maxwell has collaborated with award-winning artists such as Alicia Keys, Roberta Flack and Sade.
The Maxwell tour stops at Belly Up Aspen on Thursday, June 19; doors open at 9 p.m., and the show starts at 10 p.m. The 450-capacity Belly Up is the smallest venue on the Summer Soulstice Tour, which includes much larger venues like the Staples Center and Toronto's Massey Hall. The intimate surroundings of the Belly Up Aspen will give patrons a rare opportunity to enjoy a more up-close-and-personal performance by the singer-songwriter.
For more information on the Maxwell show at Belly Up Aspen, please visit the venue's website, bellyupaspen.com.
In 2013, Rolling Stone ranked Belly Up Aspen No. 16 on a list of "Best Clubs in America" and quoted Brian Ahern, a top William Morris booking agent as saying that owner Michael Goldberg "introduced music to Aspen" that otherwise might not have been heard in the mountain town. Maxwell's appearance is further evidence of Goldberg's commitment to bringing unique entertainment to Aspen and nearby towns.
About Belly Up Aspen:
Belly Up Aspen was opened by owner Michael Goldberg in January 2005, two years after his brother Steve acquired the original Belly Up, in Solana Beach, CA. Belly Up Aspen hosts more than 300 live concerts a year and has featured such musical talent as Widespread Panic, Pixies, The Flaming Lips, Jane's Addiction, Thievery Corporation, The Raconteurs, Ben Harper, B.B. King, Counting Crows, SEAL, ZZ Top, Weezer, Jimmy Buffett, The National, Moby, John Legend, Damian Marley, Nas, Stephen Marley, deadmau5, Snoop Dogg, Tiësto, Mos Def, Jurassic 5, Lynyrd Skynyrd, Joe Cocker, Wyclef Jean, Ice Cube, Umphrey's McGee and much, much more. For more information, please visit bellyupaspen.com/event/maxwell/.