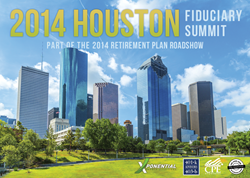 Helping Thousands of Employers Positively Impact Millions of Retirement Plan Participants.
Houston, TX (PRWEB) May 06, 2014
The 2014 Houston Fiduciary Summit is a workshop that brings together both local and national expertise, to interact with employers made up of CFOs, HR Directors, and Business Owners. The goal being to help employers reduce fiduciary risk, identify plan upgrades, and make better decisions that positively impact participants.
John Livingston- Senior Plan Consultant at 401(k) Advisors, and Julie Ward - VP Consulting at 401(k) Advisors will be leading the discussion. Livingston and Ward will be speaking alongside guest speakers:
-James C. Liu, CFA – VP Global Market Strategist at J.P. Morgan
-Rance Buss, CPA – Partner at Weaver
-Shelby George, JD, CEBS – ERISA Attorney & Benefits Market Strategist at Manning & Napier
Topics of discussion are:
1) Evaluating the Reasonableness of Plan Fees
2) Retirement Readiness - The Plan Fiduciary's Role
3) Global Market & Economic Update
4) Convergence of Retirement and Healthcare
5) The Appropriateness of Target Date Funds for Participants
The 2014 Houston Fiduciary Summit is the seventh stop of the Retirement Plan Roadshow and will be held at the Hilton Houston Post Oak on May 20th, 2014 from 11:00 AM to 2:30 PM (Lunch will be served). The 2014 Houston Fiduciary Summit is approved for 3 CPE/CPA credits and 2.5 HRCI general credits. Seating is limited and local plan sponsors will receive priority registration. Additional details and registration information can be found here.
About 401(k) Advisors
401(k) Advisors provides independent retirement plan consulting services to major and mid-sized private and institutional plan sponsors, and currently advises over $17 billion in manageable assets. The firm is recognized for best practices in retirement planning, investment due diligence, vendor service and fee benchmarking, compliance processes, and education for sponsors and participants.
http://www.401kadvisors.com
About Xponential Growth Solutions
Xponential Growth Solutions (XGS) has helped thousands of retirement plan sponsors/employers reduce fiduciary risk, identify plan upgrades, and make better decisions that positively impact millions of participants.
We are independent of investment professionals, third party administrators, fund companies, and recordkeepers. With our expertise in regulations and industry best practices, XGS is able to provide unbiased education, recommendations, and referrals. Our transparent information and solutions equip employers with the tools and confidence to maximize the value of the plan for both the employee and employer.