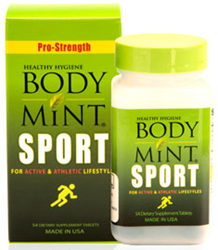 Oahu, HI (PRWEB) April 25, 2014
Athletes at all levels are some of the most active people around, and this activity often produces some of the worst body odors. For athletes on the go there is good news now that Body Mint USA has introduced Body Mint Sport. Body Mint USA is the maker of the popular Body Mint all-natural odor fighting supplement that works to reduce and eliminate all types of body odors by working from inside the body. With Body Mint Sport, the company has entered the arena where some of the worst body odor resides and they are giving athletes a powerful new tool to fight common body odors.
A Body Mint USA spokesperson announced the new product with the proclamation that "athletes need no longer worry about embarrassing and often debilitating body odor." Body Mint Sport is made from the same powerful ingredients as other Body Mint products, but with an enhanced formula that provides even more odor fighting abilities. The active ingredient in Body Mint Sport is chlorophyllin, a derivative of chlorophyll and as with all Body Mint USA products, Body Mint Sport is made from healthy, green ingredients that contain no harmful chemicals.
Body Mint Sport has been specifically designed for the most active individuals, especially those who engage in intense physical activity each and every day. The pro-strength formula in Body Mint Sport was tested for over three years and was shown to be incredibly effective as an odor fighting substance. The formula takes odor fighting to a higher level than even the other Body Mint products and is effective even when heat, sweat or stress conspire to create the worst odors.
More information about Body Mint Sport is available at http://bodymint.com/products/body-mint-sport/. Company representatives are also available via phone at 1.866.263.9646. Body Mint also has a presence on Facebook, Twitter and YouTube and when visitors go to the Body Mint website they are able to chat live with an expert on the product.
About Body Mind-USA LLC
Body Mint-USA, LLC is a subsidiary of Hawaiian Organics, LLC. The company was founded in 1997 with the mission to research and develop unique and healthy products that enhance the quality of life. Body Mint is Hawaiian Organic's first and most successful product. Body Mint is a natural, ingestible body and breath deodorizing/freshening tablet that is basically a deodorant in a pill.
To learn more contact:
1-866-274-6468
http://bodymint.com