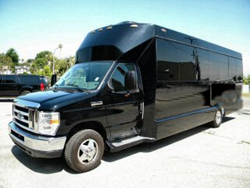 Los Angeles, CA (PRWEB) April 26, 2014
ALS Limo & Car Service has added a new luxury minibus to their fleet of party and touring vehicles. The new minibus joins the company's luxury limos, buses, SUV's and Hummer limos to offer clients the best possible experience, riding in style that is unmatched throughout Southern California. A company spokesperson announced the new vehicle option and said, "We are excited to bring this luxury minivan to our fleet. Our clients with larger groups will now be able to enjoy the comfort and customer service that our company has been know for since we were founded."
The minibus is a 24-seat vehicle that is perfect for party groups, or larger groups that want a tour of the many attractions throughout the area. The minibus allows clients to save time and expenses like gas by renting just one vehicle to transport their group. The minibus is a permanent addition to the ALS fleet and will be available for rent 365 days a year. The vehicle features reclining cloth seats, a TV/VCR combo, AM/FM radio, intercom and plenty of luggage storage.
ALS is offering the minibus in its entire area of service, including Orange County, Los Angeles County, San Bernardino County, Riverside County and San Diego County. ALS has been driving customers in luxury for over 25 years and the company continues to provide the best quality rides at the most affordable prices.
To learn more about the new minibus, visit the ALS Limo & Car Service website at http://www.limos-la.com/ or call 1.888.722.2202 to speak with a company representative or ask for a free quote. ALS Limo & Car Service also has a presence on Facebook, Twitter, YouTube, LinkedIn and Google+.
###