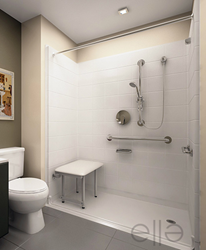 We guarantee the best quality and highest prices nationally!
New York, NY (PRWEB) April 24, 2014
People of different ages have to adapt to spending day after day in a wheelchair for many reasons. They deserve to enjoy as many comforts as possible, including taking a refreshing shower when they feel like it.
Aging Safely Walk In Tubs, a leading supplier of innovative products for people with mobility restrictions, has introduced wheelchair accessible handicap shower packages with built-in seats. The packages can include a padded seat with fold-down legs, two grab bars, handheld shower, water stopper, thick vinyl curtain and high quality valves. All components are made in the U.S.A. and come with industry leading guarantees.
The large roll-in wheelchair accessible showers can be customized in many ways. For example, thresholds can be as low as one half of an inch and some models can be equipped with a wheelchair ramp. An excellent selection of custom colors and tile patterns is available.
These high quality wheelchair accessible shower packages are natural choices for nursing homes, assisted living facilities, retirement communities and builders. They can also be a great fit for residential applications where tight spaces are a concern. These affordable handicap showers may be purchased by homeowners, contractors, builders, plumbing suppliers and bath remodeling companies.
Customers can arrange for their own contractors to handle installation; or, while discussing individual job requirements, arrangements can be made for Aging Safely Baths to install the unit.
Aging Safely Walk In Bathtubs is based out of Colorado, but offers shipping at no cost nationally. This specialty aging in place company carries a wide assortment of products and accessories which contribute in a very positive way to continuing safety for those with mobility concerns. All products are displayed with detailed descriptions in the online showroom at http://www.agingsafelybaths.com. Staff members are always available for consultation on specifics about individual products and which models are best suited to different situations in healthcare facilities or private homes.
For additional information, send an email with the contact form on the website or call a representative for a no pressure or cost consultation. There is no charge for shipping to destinations within the continental United States and most of the showers offered are fully ADA compliant.
Contact Information:
Jace Warren
1-888-779-BATH(2284)
info(at)agingsafelybaths(dot)com