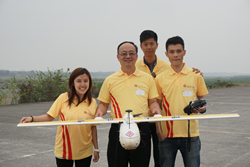 Our "Poly-Eagle" can execute a flight-plan-based mission autonomously and can communicate with ground control station instantly to provide high quality live video stream.
(PRWEB) April 25, 2014
Named "Poly-Eagle", the team was led by Professor Wen Chih-yung and Associate Professor Dr Su Zhongqing of PolyU's Department of Mechanical Engineering (ME), with undergraduate students Wong Pak Hang (team leader), Tsang Wilson and Yip Hoi Yan as members. It is the second time that a university team from Hong Kong was honored in this regional competition organized by National Cheung Kung University (NCKU) since its launch in 2007.
The team was asked to build an unmanned aircraft vehicle from scratch and integrate its design with advanced Global Positioning System (GPS) technology for locating the position of the UAV and that of the missing object. "Poly-Eagle" is equipped with an autopilot system which allows it to execute a flight-plan-based mission autonomously. Also, with live video and data transmission system, Poly-Eagle" can communicate with ground control station instantly to provide high quality live video stream.
By integrating different systems, "Poly-Eagle" is able to fly in the sky continuously up to 30 minutes and can perform rescue mission and identify several missing objects in a journey of approximately 10 kilometers. This requires a high level of flying stability, long flight duration, long range ability and real time communication interface.
The team leader Wong Pak Hang explained that the UAVs available in the market now are mostly short in flight duration and distance range. Their designed UAV is ready for configuration upgrade to achieve even longer range and flight time if a higher capacity battery is installed.
On top of the rescue mission, the entrants were graded on five items – the ability to identify the type and quantity of rescue targets, initial coordinates, accurate coordinates, return to base safely and submit final report. The whole mission including submission of the final report must be completed within 40 minutes.
Aviation expert Professor Wen Chih-yung is pleased to see that "Poly-Eagle" designed by PolyU students has successfully demonstrated its capability to fly and meet the challenge of inspecting a wide region under the satellite navigation and identify targets based on real-time video recording. He added that such UAV technology can be used not only in rescue mission but also other applications such as border control.
Looking ahead, PolyU is committed to providing high-quality research and education in aeronautical engineering and aviation to advance the frontier of knowledge and groom professional manpower for the industry. The Department of Mechanical Engineering is currently offering an Aviation stream under BEng in ME, and two specialisms leading respectively to the award of MSc in Mechanical Engineering (Aeronautical Engineering) and MSc in Mechanical Engineering (Aviation). On top of that, the University is also going to launch a top-up degree in Air Transport Engineering in Sep. 2014.
The UAV competition organized by National Cheng Kung University is well acknowledged as one of the key UAV events in the world with recognition from the community, governmental agencies, universities and industrial partners. It covers five categories: Fundamental Design (Engine), Fundamental Design (Motor), Advanced Design, Navigated Flight and Flapping Wing Vehicle. The competition was held on NCKU campus in Southern Taiwan from 22 to 23 March 2014.