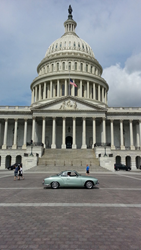 "ASME thanks MINDDRIVE for its efforts to inspire and educate young people," said Matthew Schatzle, Executive Director of the Washington D. C. – based ASME Foundation, a major supporter of MINDDRIVE'S programs.
Kansas City, MO (PRWEB) April 24, 2014
An after school program is opening the hearts and minds of the world as these primarily at-risk students from Kansas City's urban core embark on the fourth journey in an electric car, built by their own hands.
MINDDRIVE is an after school program that uses experiential teaching techniques along with heavy involvement from volunteer mentors to engage students who struggle with traditional educational models, but excel in the MINDDRIVE model with a little encouragement, teamwork and incredible accomplishment.
This year, a team of students and their mentors will experience the immense beauty of America's most amazing redwood forests and the coastline of California on an environmental and technology exploration of one of the most innovative states.
"We want to bring our project to California to show them how happy we are that they have lead the way for EV expansion in the US, and to also let them know that we're doing the same in the middle of the county – Kansas City, Missouri!" says high school senior Anastasia Tevis.
The trip is an important aspect of MINDDRIVE'S mission: to engage students in their education, expand their vision of their futures by providing them with experiences that are inspirational and that leave them forever changed. And, to ignite and nurture a career path that leads to a sustainable, vibrant life.
This year, the group will be sharing their message of achievement and also hearing from technology industry experts like Tesla and the Stanford University REV'S program as well as several interactions with high schools and colleges along their trip. The finish line this year is Carmel-by-the-Sea, CA where the students will be greeted by a group of EV enthusiasts and civic leaders at a beach party and a showcase of electric and other alternative-powered cars, where MINDDRIVE'S Karmann Ghia will be featured.
In previous years, MINDDRIVE has taken its proto-type car, Lola to the Proving Grounds of Bridgestone Tires in Texas for three days of testing and expertise by tire engineers, garnering over 400 MPGe. Next, the program restored and converted a Lotus Esprit and drove it from San Diego to Jacksonville during a grueling 12-day, 2400-mile trek – the first high school group to achieve such a feat.
Last year, the message of how experiential learning leads to jobs was brought to the Capitol and the MINDDRIVE students were hosted by their district Congressman, Emanuel Cleaver II and sponsored by the ASME Foundation and the IEEE for a standing-room only Congressional briefing.
"ASME thanks MINDDRIVE for its efforts to inspire and educate young people," said Matthew Schatzle, Executive Director of the Washington D. C. – based ASME Foundation, a major supporter of MINDDRIVE'S programs. "By using electric vehicles, MINDDRIVE is doing work ASME cares about: building STEM awareness among students to help them envision the exciting, rewarding, entirely realistic possibility of their own career in engineering. We're delighted to help out."
MINDDRIVE intends to launch a movement of adults getting involved in the education of the children in their community with the launch of "Raise Your Hand" intended to create a tribe of like-minded people who are passionate about the solution to the troubled educational system. Stay tuned as the plan keeps developing and the opportunities offered to this group of the unlikeliest innovators continues to transform and expand.
MINDDRIVE invites and encourages everyone to "Raise Your Hand" by going to their Facebook page or website and clicking on the Sign Up button. "We can do this – together we can achieve great things."
About MINDDRIVE:
MINDDRIVE'S mission is to inspire students to learn, expand their vision of the future, and to have a positive impact on urban workforce development. The program is funded through the national sponsorships of Bridgestone, Hertz Corporation, ASME Foundation and KCP&L as well as through local foundations and individual contributors.
MINDDRIVE serves nearly 50 students from the urban core of Kansas City, currently working with more than 15 area schools; students participating in Automotive Design Studio or, in Contemporary Communications. The students choose their course and also are given the freedom to align with the particular aspect of the project that gets them the most jazzed. Mentors play a significant role in finding what that spark is for each student, then figuring out a way to inspire them in that direction.