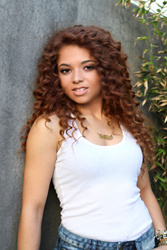 Brittany has a natural comedic timing in her acting and is a great addition to our cast. We really enjoy working with her.
Hollywood, Calif. (PRWEB) April 24, 2014
Brittany Glodean is not only a pop music sensation and the granddaughter of music legend Barry White, she can also add comedy actress to her resume. She was recently cast as the engaging "Entertainment Reporter" on the new teen comedy web-series, "Another News Show." Another News Show or "ANS" is due to hit big this summer exclusively on ANS Official Channel.
Another News Show was created by Alex Dale (Up in Arms), who trained at the famous Acme Comedy Theater in West Hollywood, California. Other famous alumni of Acme Comedy Theater are Joel McHale, Wayne Brady, and Nia Vardalos. ANS, inspired by The Daily Show and SNL's Weekend Update, is written by Dale, Luke Broyles (Disney's Prankstars and Up in Arms Comedy, Groundlings) and Amanda Lungaro (Swivet, Up in Arms Comedy) and features the web's most incompetent teen news team. Dale commented, "Brittany has a natural comedic timing in her acting and is a great addition to our cast. We really enjoy working with her."
Glodean, Broyles (as the straight-faced yet comical News Anchor), Lungaro (as the quirky, fearless Field Reporter), and Dale (OmgTV, as the ever inaccurate and politically incorrect Political and Technology Correspondent desperately attempt to report cutting edge stories. Yet the team seems to focus on the completely wrong part of the stories and never get their facts correct, to Broyles's dismay and embarrassment. ANS fills a teen comedy programming void with sidesplitting news spoofs from a high school, college-aged perspective. View the Another News Show trailer here.
The ANS team of reporters is dedicated to covering stories that will provide fresh and entertaining parodies on current events and will undoubtedly report on fictional issues.
Glodean is a quadruple triple threat who sings, dances, models and acts. She is launching her solo artist career later in 2014. Her singing style is very Pop/ R&B and in addition she raps. Glodean's family has a history in the entertainment arena. She is the granddaughter of the late, great Barry White as well as Glodean White, the lead singer of the sensational singing female group Love Unlimited, that was produced and created by Barry White. Barry White also appeared on several TV shows including Ally McBeal and The Simpsons. Glodean is a natural comedic actor and has received numerous positive accolades in this regard.
Another News Show is currently in production with episodes to be released this summer.
For more information about Brittany Glodean, visit her Official Website.