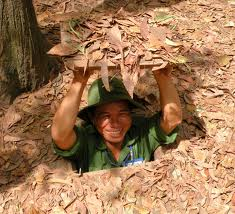 Besides Dien Bien Phu tours, we would like to offer a day tour to Cu Chi tunnels- a famous historical site in our country.
Hanoi, Vietnam (PRWEB) April 24, 2014
Now part of a Vietnam War memorial park in Hochiminh city, the Cu Chi tunnels have become an attractive tourist destination. It was built by the Communist guerrilla troops (known as Viet Cong) during the Vietnam War in order to combat foreign invaders and South Vietnamese forces. Ten of thousands miles of tunnels, including an extensive network running underneath the Cu Chi district northwest of Hochiminh, were established.
Due to systems of tunnel ways, fortifications, combat trenches, soldiers and people of Cu Chi fought very bravely creating glorious feat of arms. The American invaders first stepped into Cu Chi land, they faced extremely fierce resistances from tunnels from important and very difficult bases such as "Underground villages", "Dangerous secret zone", "not seeing any Viet Congs but they can appear everywhere", etc. Cu Chi Tunnels become a historical war hero of Vietnamese People and famous land in the world.
"There are just 6 days left to celebrate the Reunification Day in Vietnam (April 30th). Besides Dien Bien Phu tours, we would like to offer a day tour to Cu Chi tunnels- a famous historical site in our country."- said the Chief Executive of the Smile Travel Vietnam.
The trip will start in Hochiminh city at 8:00 a.m. On the way to Cu Chi district. Tourists will have a view of rice paddies, villagers drying noodles by the side of the road and other scenes typical to southern Vietnam.
Then, it is time for exploring Cu Chi Tunnels. There each visitors can imagine what it was like to be a guerrilla complete with Russian Carbine rifles and AK 47′s on display. At noon journey back to Hochiminh city and have lunch.
In the afternoon, some remarkable sights in Hochiminh city are visited, including the Reunification Palace, Thien Hau pagoda, the Notre Dame Cathedral and Old Post Office. The one day trip will be end at Ben Thanh market for shopping.
For further details about the itinerary, please contact at : sales(at)smiletravelvietnam(dot)com or call 84 976 127 023.
About Smile Travel Vietnam:
Founded in 2008, it is one of Vietnam's prestige tour booking sites. The travel agency has been providing travel services such as Vietnam visa on arrival, Vietnam tours and airfares. In addition, the company supports a lot of useful information regarding to Vietnam culture and cuisine.