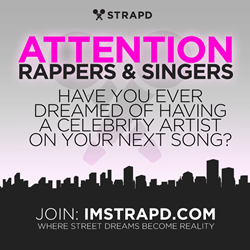 Where Street Dreams Become Reality...
Atlanta, GA (PRWEB) April 29, 2014
Strapd, LLC is proud to announce the launch of the website, http://www.imstrapd.com on April 14, 2014. The site is intended to give up and coming artists the opportunity to debut their music to a community that may otherwise be considered beyond their reach.
The Strapd website (http://www.imstrapd.com) was designed to not only provide a platform for artists to be heard, but to create a localized place to collaborate with likeminded talent, connect with highly regarded music industry executives, and seek the mentorship of established celebrity artists. The primary goal of the website is to provide a place of support for those who are looking to bring their dreams to fruition, through self promotion and industry networking.
Imstrapd.com has been built and realized by a team of seasoned executives who have worked with the likes of Kelly Rowland, Young Thug, Whitney Houston, Bruno Mars, Wale, Bad Boy Records and more. With the first stage of the website being brought to the public eye, these key players are looking forward to driving innovation in the way new talent is found on the internet and through social media.
In beta, users of Imstrapd.com can expect to find ongoing contests for opportunities to work with known celebrity musicians. The acronym STRAPD stands for Supporting Talent Raising Awareness Promoting Dreams. For more information see http://www.imstrapd.com