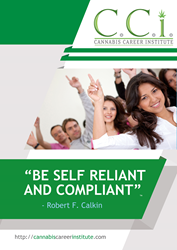 You need to understand the Marijuana Business in order to be successful in the Cannabis Industry... Tampa, Florida, Las Vegas, Nevada, Detroit, Michigan, and Cleveland, Ohio are ready for students needing that education...
Florida, Ohio, Michigan and Nevada (PRWEB) April 25, 2014
Once Colorado opened the floodgates with full legalization and the announcements of over 96 million dollars in state revenue and the crime rate potentially decreased in only 3 months*, Marijuana Business has been getting a second look.
While many states have already begun their own forms of decriminalization of Medical Marijuana and with some states already heading towards full legalization, this is an industry that currently has very little standardization or education. The fact that this industry is brand new on the legal side of the world makes it hard for people to gather information on how to start a cannabis business, make a successful grow operation, delivery service or medical marijuana dispensary operation.
Cannabis Career Institute is paving the way for students to become educated on how to build the business infrastructure in this new industry. Building the infrastructure to a marijuana business before laws change, or even as they are changing, is only possible if entrepreneurs understand what it takes to be in a Cannabis Business. The defining difference of success and failure starts with education and knowledge in any business structure - and this even more so defined within the Medical Marijuana Industry.
Cannabis Career Institute offers entrepreneurs and job seekers viable information and education of the complicated world inside the Cannabis Industry, while providing a solid foundation to begin a journey towards the newest industry in the United States: The Cannabis Business.
Many people make the mistake of thinking the cannabis industry is simply a legal drug dealing situation. Nothing could be further from the truth. Cannabis Career Institute teaches students compliance, standards, expectations, state laws and more. The all day class gives students the tools to work with in order to understand how they can open up a medical marijuana delivery service, start up a dispensary for medical marijuana patients, begin a grow operation or even an edibles operation while developing an understanding of the Medical Marijuana patient with additional information regarding the laws within the state the class is in - or within other states where cannabis business is legal.
Founded by Robert F. Calkin in 2009 after decades in the marijuana world as a strong advocate and leader, Cannabis Career Institute focuses on the concepts of business practices, creation of standards for the industry and self reliance using compliance standards. Calkin is very well known within the Marijuana world and has been active in creating changes, educating people and providing consultations for various well-known projects.
Each student attending the class learns the regulations and laws formed within those states and is provided information about cannabis business operations within states that have legalized medical marijuana or recreational use marijuana. With marijuana laws across the USA changing on an almost monthly basis, the cannabis industry has become a very lucrative business platform. Entrepreneurs need guidance in order to create the best possible infrastructure aimed at patient care, within those regulations, and guidelines issued by states and municipalities, while students also need to be made aware of Federal regulations.
With guest speakers from NORML, talented instructors, attorneys, grow masters and more, Cannabis Career Institute offers the most realistic information for business operations to each student. Information from educated instructors provides detailed, quality information to give entrepreneurs the right keys to start planning for their future and enhancing networking capability.
This weekend group of classes only has a few remaining seats across the nation, students are advised to sign up online at least 24 hours in advance.
Orlando, Florida - April 26th - SOLD OUT
Las Vegas, Nevada - April 26th - AVAILABLE
Detroit, Michigan - April 26th - AVAILABLE (limited)
Cleveland, Ohio - April 27th - AVAILABLE
Tampa, Florida - April 27th - AVAILABLE
Panama City, Florida - May 3rd - AVAILABLE
Press members are invited to Cannabis Career Institute Classes across the nation, interviews with instructors are permitted outside of classroom times - classroom time is from 9 a.m. to 7 p.m. For further information regarding Cannabis Career Institute, please contact Meki Cox by email meki(at)cannabiscareerinstitute(dot)com
*CRIME IN THE CITY AND COUNTY OF DENVER BASED ON UCR STANDARDS information provided by http://www.denvergov.org UCR Citywide Reported Offenses of 2014 located at http://www.denvergov.org/police/PoliceDepartment/CrimeInformation/CrimeStatisticsMaps/tabid/441370/Default.aspx date of data release is 4/7/14.