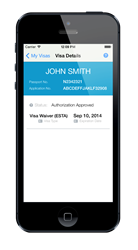 SimpleVisa USA makes electronic travel visa obtention and management a breeze, for both frequent flyers and first time travelers.
Hollywood, CA (PRWEB) May 22, 2014
Simple Visa LLC, the visa specialists, have today announced the launch of their new smartphone app, SimpleVisa USA. This free iPhone app allows travelers that are citizens or nationals of countries participating in the US Visa Waiver Program to retrieve existing visas, or even submit new visa waivers when they want to visit the USA with a simple scan of their passport.
With thirty eight countries already registered to the Visa Waiver Program (VWP), citizens or nationals from these countries can use the SimpleVisa USA app, which works seamlessly with the US Government Visa Waiver Program (VWP) and the Electronic System for Travel Authorization (ESTA). Whether the user is a frequent flyer, first time traveler or someone that simply does not have the time to learn how to get a visa to enter the United States, the SimpleVisa USA app makes obtaining a visa a breeze.
"Mobile technology has gone from strength to strength recently as we can now book a flight; change our flight, book a hotel and book tours and excursions before we've even reached our destination with just a few taps on our smartphone's screen. So why does getting a visa have to be such a pain? Well, until now, it was rather difficult getting a visa," said Loris Mazloum, CEO of Simple Visa LLC. "At SimpleVisa, we thought it was about time the visa process caught up with the rest of the travel industry. Our new SimpleVisa USA app makes electronic travel visa obtention and management a breeze, for both frequent flyers and first time travelers."
The Simple Visa team is planning on developing a set of visa apps for a variety of countries that offer electronic visas but are not part of the VWP. The team will continually update the current app so that it's in line with Apple's latest software offerings.
"Because of a typo on my visa application form, I missed my flight and had to pay for another flight to the United States," said Karlota Suenz. "I then tested the SimpleVisa USA app and couldn't believe just how easy it was for me to travel. Talk about proper peace of mind. I now recommend it to everyone!"
Download the SimpleVisa USA app for free here - http://get.simplevisa.com/usa .
About Simple Visa LLC (http://www.SimpleVisa.com)
Simple Visa LLC provides a swift and easy visa service for anyone wanting to travel to the United States of America via their innovative, free smartphone app. The company was established in 2013 by Loris Mazloum, who serves the company as its CEO. Simple Visa is headquartered at 7083 Hollywood Blvd, Los Angeles, CA 90028, USA.
Simple Visa provides unparalleled customer service, ensuring it continues to foster stronger relationships with both its customers and partners locally and internationally. To see how Simple Visa can take away the visa nightmare, watch their overview video – http://youtu.be/dp804bRyeh8.