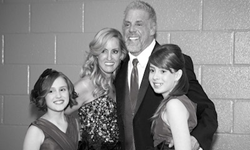 Live Strong, Act Bold, Be Brave. Nothing is too hard to do, always believe.
Ridgecrest Ca (PRWEB) April 25, 2014
The sudden death of the Ultimate Warrior on April 8, 2014 has shocked the Loyal WWE Community. His wife, Dana, has kindly requested to have donations, in lieu of flowers, be sent to Operation Family Fund in honor of her husband's great admiration for the military.
Mrs. Dana Warrior spoke to Mike Cash, CEO of Operation Family Fund, shortly after the tragic passing of her husband. She holds to Ultimate Warrior's motto, "Live Strong, Act Bold, Be Brave. Nothing is too hard to do, always believe". Ultimate Warrior had a strong admiration for the men and women serving in the US Forces and, along with his wife, enjoyed listening to Dr. Laura, who is an avid supporter of Operation Family Fund. It is for these reasons Mrs. Warrior chose to continue her husband's legacy through the request of donations to this foundation in memory of her husband.
In her eloquent letter of response to the worldwide outpouring of support she states, "I most loved his request for the Hall of Fame to include the, as he called them, "true Superstars," those behind-the-scenes people who make the machine run". During a phone call to Mike Cash, she spoke of the great respect her husband had for the superstars serving this country every day.
Operation Family Fund sends deepest sympathies to Mrs. Warrior and their two daughters during such a difficult time and would like to thank her for her strength and thoughtfulness in choosing Operation Family Fund to honor The Ultimate Warrior's memory.
Operation Family Fund has had the great honor of being supported by many amazing individuals over the years. One of the foundations largest supporters is Dr. Laura Schlessinger, the syndicated #1 Talk Radio Host on SiriusXM Stars Channel 106. It is because of her attention to Operation Family Fund that generous donations from families like the Warriors are possible.