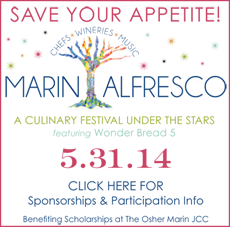 San Rafael, CA (PRWEB) April 28, 2014
An evening of progressive culinary adventure with live music, dancing, auction and serious fun. Marin Alfresco begins in a softly lit courtyard with live jazz eventually leading guests to a magical meandering path filled with delightful surprises. The destination: An outdoor wonderland of fun. Local cuisine, libations, stellar wine tastings, and silent auction are all available while the party atmosphere is set by live music and wild fun from international rock & roll group/party machine; Wonder Bread 5. A wooden dance floor set on the turf and music that covers everything from Motown to Bean-Town makes for a perfect dance party under the stars and nestled against the hills of Marin.
What: A Fun, Food, Wine, Cocktail, Music & Dancing Adventure
What Else: Foodie Silent Auction
When: Saturday May 31 @ 6:30
Tickets: http://www.marinjcc.org/alfrescobegin at $125
Where: The Osher Marin JCC, 200 N San Pedro Rd. San Rafael
Why: Great fun while Benefiting Scholarships at the Osher Marin JCC
ABOUT WONDER BREAD 5
For over a decade, The Wonder Bread 5 has been thrilling audiences and exceeds client's expectations. Michael, Jackie, Jermaine, Marlon and Action Jackson round out this unstoppable, international rock and roll party machine. Unlike those "other party bands" that seem to plug in a new member every month or so and play the same tired songs from the 1980's, the Wonder Bread 5 covers everything from Motown to Bean-Town and back again. And will customize their set to include a request.
Unlike other disco party bands, The Wonder Bread 5 actually encourages their audience to join them on stage, sing, or dance.
A full service party posse based in the Bay Area, these globe trotting rockers have performed their amazing stage show throughout the states and beyond. Fun and unparalleled excitement to the young and not so young alike.
ABOUT THE OSHER MARIN JCC
The Osher Marin JCC is the Community Center of Marin County. Epitomizing the essence of Marin, with a range of authentic cultural experiences enjoyed by many generations, the Osher Marin JCC offers award-winning facilities, abundant physical and educational activities and world-class programming relevant to our entire community today. Since the Osher Marin JCC's founding in 1947, the center has become recognizable for its rich history of Jewish traditions and values with an unparalleled all-inclusive community spirit.
Creating a sense of "community" for every generation and all ages is at the heart of the JCC philosophy. This pursuit extends beyond the Center membership, providing access to a myriad of programs and offering scholarships to hundreds of physically and economically disadvantaged men, women and children. The Center embraces the entire community and invites all to participate.