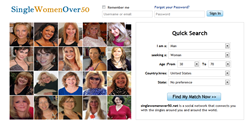 (PRWEB) May 05, 2014
Successful Match, the original and first company that powers online dating sites in the niches of millionaire dating and sugar daddy dating, has launched a new online dating site Single women over 50 for single men & women over 50 to find friendship, companionship, and even a serious relationship.
Single women over 50 caters to singles over 50 and doesn't allow members under the age of 40 to maintain a focused dating community for mature singles only. It is important to members that dating is a fun and safe experience for them. According to Tyler Matheson, product manager, "We are committed to providing you with a secure environment to meet people and treat any suspicion of fraudulent behavior very seriously. As well as continually monitoring the site for unusual behavior, we manually check every profile on the site and use an array of technologies to detect unusual behavior or false profiles."
Through Single women over 50, most members can find the partners of their dreams in a short period of time on condition that they provide their personal profiles in detail, including gender, preference, age, country, state, etc. Labeled as the number 1 dating site already, it is actually quite easy to manage and use on a daily basis in the long run. All that is required from individuals is to have them signed up at the earliest convenience.
SingleWomenOver50.net creates and connects communities of men and women across the globe. As a member in the network, individuals can find members within their specific interest or expand your search to reach a wide range of other interests including: Single women over 50, single men over 50, Seniors, Single-Parents, Sports & Fitness, Animal Lovers, Race Cars, Bikers, Wealthy singles, Gay & Lesbian, Art Lovers, Cooks, Musicians and many more. Find men or women by their Zodiac sign or even connect with someone abroad.
SingleWomenOver50.net provides an online platform for senior people who are single and lonely to find love and companionship; according to Tyler Matheson, "Finding a companion to do things with is what most senior people want. With SingleWomenOver50.net, you can easily locate men or women in a certain area and get to know their possible matches before they meet in person."
Single Women Over 50 provides senior people a wide range of resources and a wealth of information to guide members in the process. For more information and become a member, visit http://www.singlewomenover50.net/.