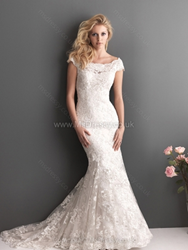 (PRWEB) April 24, 2014
Msdressy will host the China Wedding Expo in May. And during the Expo, Msdressy will offer a free UK wedding dress for the winning couple in the "Vows of Love" event. Representatives for the China Wedding Expo contacted Msdressy last week to assist the winner with a custom made wedding dress. The president of Msdressy is eager to help the event. As you may know, Msdressy often advertises special sales and holds particular giveaways.
Says the salon staff Damon, "Msdressy has many gorgeous wedding dresses in stock. Behind Msdressy.co.uk is an amazing team of real, live specialists who are happy to handle any issue you may have. I helped the bride to choose her dress, and the factory workers re-make a new dress in her size to make sure the gown was well-fitted. We were happy to help the winner of the Vows of Love contest to find her dream dress."
The free wedding ceremony will be hosted in Shangri-La hotel on Saturday, May 10. Representatives of Msdressy will attend the wedding. And the photographer will take photos of the whole event. And the edit specialists will pick some gorgeous photos and post them on the official blog.
About Msdressy
Msdressy.co.uk, a one-stop shop for wedding and events. There are a great variety of beautiful wedding dresses, matching shoes, exquisite accessories for brides. No matter where you are or who you are. Msdressy.co.uk offers same low price to you. We know that the dress means a lot to you, so we ensure that each dress is handled with care and arrives from our warehouse in style! Additionally, we offer fast delivery to have you get the dress in time for your big event.