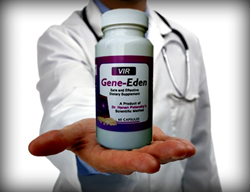 For those patients who don't qualify and therefore are left without treatment for their hepatitis C infection, we recommend Novirin. - Mike Evans, polyDNA
Rochester, NY (PRWEB) April 27, 2014
polyDNA has learned that the new hepatitis C drug from Gilead Sciences has cost one of the largest medical insurance carriers in America more than $100 million in the first quarter. These costs were spread across the Medicare part D, Medicaid, and commercial plans sold by the United Health Group (1). UnitedHealth CEO Stephen Hemsley said that "The aggressive US pricing practices on this has been well publicized and continues to be quite controversial (1)." The new hepatitis C drug called Sovaldi costs $1,000 per pill.
As UnitedHealth CEO Stephen Hemsley said, "We are working diligently to ensure this medication is applied under clinically appropriate standards (1)." The way polyDNA understands this sentence is that United Health will have a very restrictive policy about who qualifies to receive Sovaldi. In other words, a patient who goes to the doctor will most likely not qualify for this treatment since the patient will not meet the restrictive criteria defined by the insurance company. This means that the insurance company, in their attempt to protect their business, will have to distinguish between the few patients who qualify and the many who do not.
"For those patients who don't qualify and therefore are left without treatment for their hepatitis C infection, we recommend Novirin. The formula of this natural HCV remedy was proven to reduce hepatitis C symptoms in a post-marketing clinical study that followed FDA guidelines." - Mike Evans, polyDNA
The cost of Sovaldi and its marketing strategy "have come under intense criticism from insurers, government health programs and others. The cost of a course of treatment has been pegged at more than $80,000. The market is large with the liver disease afflicting more than three million Americans (1)." Across the industry, the cost of Hepatitis C medications could run more than $1 billion in the first quarter alone (1).
Gilead Sciences may be facing competition in the near future that could bring the cost of hepatitis treatments down for insurers. Abbvie (ABBV), the drug company spinoff of Abbott Laboratories (ABT) is set to release a new hepatitis C drug later this year. "It's unclear whether Abbvie (ABBV) will launch at a lower price, potentially causing some competition that would allow health plans to reign in some of the costs (1)."
Hepatitis C can lead to permanent liver damage "as well as cirrhosis, liver cancer, and liver failure. Many people don't know that they have hepatitis C until they already have some liver damage." (See WebMD, last updated July 6, 2011) (2).
Novirin shares the same formula as Gene-Eden-VIR. The difference between the two is that Novirin has higher quality, more expensive ingredients. The Novirin/Gene-Eden-VIR formula was tested in two post-marketing clinical studies published in September 2013 and March 2014, respectively, in the peer reviewed medical journal Pharmacy & Pharmacology (3).
Interested individuals can view the two published studies here, http://cbcd.net/Gene-Eden-VIR-Clinical-Study.php and http://cbcd.net/Gene-Eden-VIR-Decreases-Fatigue-Clinical-Study.php.
Up to 70% of those studied reported a decrease in symptoms associated with HPV infection, and users of the Novirin/Gene-Eden-VIR formula experienced an increase in overall health (3).
Each ingredient of Novirin was chosen through a scientific approach. Scientists scanned thousands of scientific and medical papers published in various medical and scientific journals around the world to identify the highest quality, safest, most effective natural ingredients that target latent viruses.
A second clinical study showed that the Novirin/Gene-Eden-VIR formula decreased physical and mental fatigue. (See Pharmacology & Pharmacy, from March, 2014) (4).
To learn more about Novirin, visit http://www.novirin.com and about Gene-Eden-VIR, visit http://www.gene-eden-vir.com.
All orders of these products are completely confidential, and no information is shared or sold to any third party. Privacy is assured.
References:
(1) Insurers Fret Hepatitis C Pill Costs More Than Obamacare. Published on April 19, 2014.
http://www.forbes.com/sites/brucejapsen/2014/04/19/insurers-fret-hepatitis-c-pill-costs-along-with-obamacare/
(2) WebMD - Hepatitis Health Center - Topic Overview. Last updated on July 6, 2011.
http://www.webmd.com/hepatitis/hepc-guide/hepatitis-c-topic-overview
(3) Gene-Eden-VIR Is Antiviral: Results of a Post Marketing Clinical Study. Published on August 12, 2013.
http://cbcd.net/Gene-Eden-VIR-Clinical-Study.php
(4) Gene-Eden-VIR Decreased Physical and Mental Fatigue in a Post Marketing Clinical Study That Followed FDA Guidelines; Results Support Microcompetition Theory. Published in March 2014.
http://cbcd.net/Gene-Eden-VIR-Decreases-Fatigue-Clinical-Study.php.
polyDNA is a biotechnology company that develops dietary supplements using the unique scientific method developed by Dr. Hanan Polansky, which is based on Computer Intuition.
In addition to his unique scientific method, Dr. Polansky published the highly acclaimed scientific discovery, called Microcompetition with Foreign DNA. The discovery explains how foreign DNA fragments, and specifically, DNA of latent viruses, cause most major diseases.
polyDNA developed Novirin, an antiviral natural remedy that helps the immune system kill latent viruses.