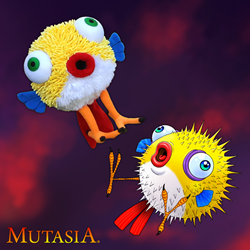 Palm Beach Gardens, FL (PRWEB) April 24, 2014
Mutasian Entertainment LLC, a creative educational entertainment company, announced today the addition of the "Pudgie" to their line of stuffed animals, featuring the mixed-up critters from the island of Mutasia.
Part pufferfish and part parakeet, the brightly colored Pudgie is a unique specimen amongst the wacky wildlife of Mutasia. This soft and cuddly Mutasian is guaranteed to bring joy to any child who adopts it.
The Pudgie will make its exclusive debut at The Kids World Family Fun Fest, an event designed for children 12 and under that offers something for all children during a unique two-day festival in Palm Beach on April 26 through April 27, 2014. Pudgie plushes will also be available to order at mutasia.com as well as to purchase at local markets as of Monday April 28, 2014.
About Mutasian Entertainment LLC
Mutasia is a mixed up world that inspires creativity and self-discovery in children of all ages. As mixed up mixes of every animal imaginable, each inhabitant of Mutasia is a unique individual, and through them, we can all learn to embrace what makes us different. Children of every age will laugh and sing as the Mutasian adventures come to life through a series of colorful books, animation, music, and mobile apps.