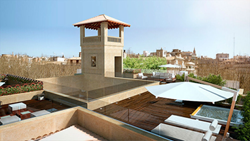 Every time we have visited Mallorca in the past 12 months (which is a lot), there seems to be another smart hotel opening its doors. We are totally spoilt for choice.
(PRWEB UK) 30 April 2014
Imagine waking up just feet away from clean, white sand beaches, and to the sound of aquamarine waves gently brushing against the shore. Light and airy accommodations with luxury amenities make visitors wonder whether they should rush out to the beach, or take the morning to sleep in and enjoy the comfort of their bed. Mallorca is a travel destination that exceeds expectations, and offers a tranquility that can only be described as "good for the soul." Perhaps that is why it is no surprise that this spring, Mallorca is blooming with an expanding number of hotel and resort options for travellers to take advantage of. Hotel and Destination specialists at Hunter Traveller have completed a series of reviews on the new hotels, adding them to their thorough visual visitor's guide at huntertraveller.com.
With Palma city becoming the new place to weekend, and the rural countryside offering a hippie note (think peace and sanctuary), any day and any month in Mallorca promises sun-kissed adventures and top class comfort. Hotel & Destination specialist Laura Tennant from Hunter Traveller recently published a short list of newly opened hotels in Palma and the Southwest for readers at huntertraveller.com:
"Every time we have visited Mallorca in the past 12 months (which is a lot), there seems to be another smart hotel opening its doors. We are totally spoilt for choice," said Tennant.
"Last week, we were lucky to be among the first to stay at the new OD Hotel Portals, a very smart, super comfortable design hotel situated in the exclusive Marina Portals. The style is contemporary, with iconic pieces of furniture dotted throughout the relaxation spaces and bedrooms. The sexy and very cool pool area makes it feel quite grown up…"
Her review goes on to explain that the OD Hotel Portals are a great option for staying close to the sea, in the popular South West of the island, and are handy for those who wish to visit Bendinat, Illetas and Palma Nova.
Another hotel Tennant reviewed was the Boutique Hotel Calatrava + Can Alomar, which is a sister property to the well-loved Can Cera. She describes the property as achieving a perfect balance between design and comfort, where the feeling is comfortable, the mood fresh and the service friendly, personal and human. Just a stroll from the cathedral and the old town, it is amazingly peaceful, and really hits the spot for a romantic weekend break.
Another favorite was the Port Adriano Golf and Spa. Back out of town and exclusively for grown-ups, the new Port Adriano Golf and Spa Hotel is kicking off its second season with just as much luxury and class as the one before. Tennant stated, "Located in the Phillipe Starck designed yachting Marina of Port Adriano, this is an indulgent choice for adults seeking top class comfort. Decorated in light soothing colours, the rooms are elegant and classically designed, and most have private balconies with amazing sea views. As a hotel, it offers something different – old-fashioned principles brought tastefully to life with a fresh, cheerful style."
These are just short excerpts from Tennants comprehensive reviews, and there are so many more hotel options that haven't even been mentioned yet to look forward to. Whatever mood or circumstance a person is in, there really is something for everyone on this gorgeous island.
Hunter Traveller strays from the beaten track and is deliberately aimed at the discerning, the curious and the adventurous. Marks of quality are more than just luxury, location, price and aesthetics. The treats, the indulgences, the luxuries as well as the more simple things, we love them all in equal measure.