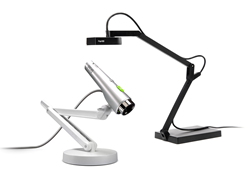 I've been finding it easy to use for both shooting sketches for sharing in other apps, and for capturing and reviewing sketches with remote users using a screen-sharing tool like Skype.
Sunnyvale, CA (PRWEB) April 25, 2014
In a recent survey of UX (User Experience) case studies, technology designer and maker IPEVO has tracked recent trends in how the company's popular document cameras are being used in a wide range of business contexts. The Sunnyvale-based company, known for its iconic Point 2 View and Ziggi-HD Document Cameras among other products, has stressed the importance of real-world case studies as it continues to refine existing products and create new products. Some of the UX trends for IPEVO doc cams include distributed teams, project management, user testing, remote client interfacing, and group presentations.
Among the dozens of examples being actively tracked by IPEVO, one trend involves small business design companies using IPEVO document cameras to share sketches of designs being prototyped and iterated upon. This is true for both sharing sketches with clients, and for sharing sketches among remote members of the same design team. Nathan Curtis, principal and founder of EightShapes (http://www.eightshapes.com) shares his use of the Point 2 View document camera on the company's blog. By sharing sketches with a document camera instead of emails or Dropbox, Nathan contends that "remote participants don't feel left out, and [they] have an equal platform to share their work too."
Michael Angeles of Konigi (http://www.konigi.com) echoes this sentiment with regards to using the Ziggi-HD document camera for his design team collaborations: "I've been finding it easy to use for both shooting sketches for sharing in other apps, and for capturing and reviewing sketches with remote users using a screen-sharing tool like Skype."
Another prevalent use case which has emerged is usability testing, particularly for the presentation and capture of mobile phone apps. Brenden Mulligan, co-founder of the Cluster photo sharing app among other endeavors, recently published a three-part guide on "How to Run Live User Testing" on the technology site TechCrunch. Brenden details the importance of capturing live video of the user operating the app: "We were testing a mobile app, so it was important to record the user actually using the app. Although you can do this by plugging the app in and watching a screencast on the computer, it's much better to actually see them touching their phone. We purchased a $100 camera for this [the Ziggi-HD Doc Cam], and it's well worth the investment."
IPEVO document cameras have also proven popular in group presentation settings. Kailen Campbell of the software developer 29th Drive (http://www.29thdrive.com) explains on the company's blog how IPEVO Point 2 View cameras were in use during the CO+HOOTS Sketch/Design Workshop which emphasizes a "pen before pixels" approach to design sketching. The doc cam captured images of live and prepared sketches which were then projected onto a large screen for the benefit of workshop attendees. IPEVO document cameras are also in heavy use during UX seminars and similar events organized by User Interface Engineering or UIE (http://www.uie.com), a leading usability research and consulting firm based in Massachusetts. For a recent example, multiple doc cams were on hand for group presentations at the April UX Immersion Mobile Conference in Denver, Colorado.
Both the Ziggi-HD USB Document Camera and the Point 2 View USB Document Camera are available directly from the IPEVO Online Store at http://www.ipevo.com.
About IPEVO
IPEVO designs and sells innovative products to enrich today's connected lifestyle. We recognize the immense potential of new technologies to help people create, teach, learn, and inspire. From classroom to living room to conference room, IPEVO is dedicated to making technology more available, accessible, and affordable for all.
For more information, visit http://www.ipevo.com.