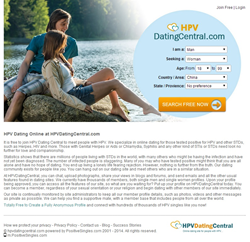 HPV Dating at HPVDatingCentral.com!
Los Angeles, CA (PRWEB) May 07, 2014
HPVDatingCentral.com recently launched a new feature called "STD Q & A". Visitors and members can go to this page to ask questions about HPV, then the Live Counselor of this website will give the answers.
"People can ask questions on the page of STD Q & A even it's the first time to visit our site; there is no need to register as a members to get help from our live counselor," said Jeffery, the CEO of HPV Dating Central. "This service is completely anonymous and confidential, what we want to do is help people who are suffering from HPV to resolve dating, emotional and psychological issues."
The live counselor is available from 6:00 to 8:30 p.m. EST on Monday to Thursday, and each unique question will be answered. There are a large number of questions and answers, which can resolve the vast majority of HPV issues.
Here is a list of some latest answers that has been answered:
1. Will rubbers prevent HPV infection?
2. Does HPV go "dormant" or does the body fully clear it?
3. If I have HPV and my partner does too and I have no warts, can she give me oral without a condom?
About HPV Dating Central
HPVDatingCentral.com is an online dating site special for people with HPV, and it has been providing dating and support service since 2001. With many unique features to make it as one the most effective HPV dating sites.