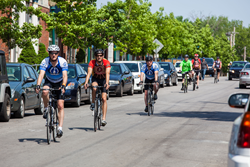 "The Tour address some serious issues in our community," says Eric Rogers, Executive Director of BikeWalkKC. "Tour de Bier is about supporting a more balanced transportation system that fosters health and financial security."
Kansas City, MO (PRWEB) April 25, 2014
Bicyclists of all skill levels and ages are invited to join the hundreds of people riding in this year's Tour de Bier KC, a bicycle tour of historic brewing sites in Kansas City, this Sunday, May 18th. The event is a fundraiser for local bicycle-pedestrian advocacy organization BikeWalkKC, which works to address major health and equality issues in the community by building a more balanced transportation and recreation system.
Tour de Bier KC is a self-guided ride between major sites from Kansas City's brewing past and present. Stops include the major (and sometimes surprising) sites of brewing and drinking from KC's past, as well as introductions to the city's newest and best breweries of today. Historic stops will include information from knowledgeable docents.
"What a lot of people living in KC don't know is that beer was really big here, just behind the likes of St. Louis and Milwaukee," says Sarah Shipley, director of marketing at BikeWalkKC. "And of course, we're becoming more recognized for our modern brews. The ride's about experiencing the fascinating past and the innovative present."
And yes, Shipley notes, there will be limited beer tasting along the ride route. Registration also includes two full glasses at the end of the ride, as well as food from local food trucks.
Riders can choose from three different route lengths, ranging from the leisurely 15-mile Lager route to the 63-mile Dunkel, depending on their experience level.
The Tour de Bier KC has become a major fundraising event for BikeWalkKC, supporting its programs improving conditions for cyclists and pedestrians across the region. Money raised at Tour de Bier supports programs like BLAST youth bicycle safety classes, policy advocacy efforts, professional education programs that teach local planners best practices for infrastructure, and Kansas City B-cycle, the city's bikeshare system, which BikeWalkKC owns and operates.
"While Tour de Bier's certainly a fun event, it address some serious issues in our community," says Eric Rogers, Executive Director of BikeWalkKC. "We run marathons to eradicate cancer and other diseases, or to support charities that help the poor. Tour de Bier is about supporting a more balanced transportation system that fosters health and financial security."
Rogers explains that Kansas City's "imbalanced" car-dependency has major implications for public health issues like obesity incidence, where both Missouri and Kansas rank very high. He adds that it also means many families are forced to rely on a form of transportation they can't necessarily afford, harming regional economic vitality and reinforcing poverty.
Online registration for Tour de Bier KC is $50. Register for and learn more about the event at tdb.bikewalkkc.org.
BikeWalkKC is the unified voice for active living, promoting a healthy, safe and accessible outdoor experience for all in a vibrant, engaged community. BikeWalkKC is a member-supported organization that works to make Greater Kansas City a safer and more accessible place to walk, bicycle, live, work, and play. The advocacy programs work with local cities to improve policies and build sidewalks, trails, crosswalks, bike lanes, and more. BikeWalkKC's education programs give people the knowledge and skills to walk and to bicycle safely and confidently for transportation, recreation, and fitness. Learn more at BikeWalkKC.org.