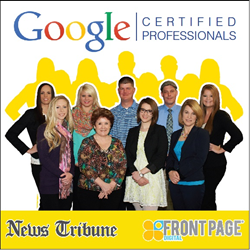 Jefferson City, MO (PRWEB) May 01, 2014
Launched in April 2013, Front Page Digital recently celebrated its one-year anniversary. Front Page Digital, a division of the News Tribune, is a digital marketing agency whose aim is to help small to medium businesses with their digital marketing needs.
"It's been really exciting to really see everything come together," said Digital Coordinator Krissy Tripp, a member of the original team. "The quick pace that comes with a startup definitely isn't for everyone, but we're developing a strong and passionate team of individuals."
Search is at the agency's core. Everything they build from custom eCommerce websites to social media management is about improving search engine results, so all of the employees are Google Certified from the start.
Front Page Digital has strong roots in the mid-Missouri community. Its parent company, News Tribune, has been around since 1865, and the Front Page Digital team works in downtown Jefferson City.
News Tribune Marketing Director Jane Haslag believes the collaboration between Front Page Digital and News Tribune is imperative.
"We recently allowed every News Tribune marketing consultant to become Google Certified if they wanted," Haslag said. "Every single one of them chose to do so, and I think that's telling. It's about building a relationship with each and every customer and providing the best solution possible."
To learn more about Front Page Digital and their offered services and products, visit http://www.frontpagedigital.net/.
About the company:
The Jefferson City News Tribune was founded in 1865, and has been the advertising source that central Missouri businesses turn to when marketing their products or services. Today, News Tribune is much more than a newspaper. With the addition of Front Page Digital, Central Missouri Newspapers now hosts a complete suite of integrated media products that connect businesses to the targeted consumers they need to grow their brand successfully and to drive revenue.
Each month, News Tribune, Front Page Digital and its affiliated websites receive 1.4 million page views, according to Google Analytics. Now, with the addition of Front Page Digital, their proven strategy for reaching influential, local consumers will expand businesses in ways owners never thought possible.
Each month, News Tribune, Front Page Digital and its affiliated websites receive 1.4 million page views, according to Google Analytics. Now, with the addition of Front Page Digital, their proven strategy for reaching