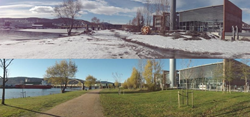 Heat pumps have the potential to save Scottish businesses £250 million a year – enough to employ almost 10,000 people at the country's average salary. The only way to radically change the cost of heating is to harvest heat instead of burning new fuel.
London, UK (PRWEB) April 24, 2014
Scots businesses are missing out on a £250m windfall from the country's sodden climate, a new study has shown.
Heat pumps – hailed as "game changing" by UK Energy Secretary Ed Davey last month – could be used to turn cold water from rivers, lochs and even flooded mine shafts into cheap, renewable warmth for tens of thousands of business around Scotland, it has been estimated.
The technology can use water as cool as two degrees Celcius to heat offices, warehouses, homes and public buildings. By comparison, the average temperature of a Scots river is 5c.
David Pearson, of Star Renewable Energy, which conducted the new research, said: "Heat pumps have the potential to save Scottish businesses £250 million a year – enough to employ almost 10,000 people at the country's average salary.
"Scotland is a cool, wet country, and we have hundreds of rivers, streams and lochs which could provide the heat needed to warm office blocks, warehouses, supermarkets, cinemas and shops.
"Recent technological advances in industrial heat pumps have made it possible to deliver heat at over 70c, meaning any building with a fuel bill of over £150,000 per year for heating could take advantage of this readily-available natural resource."
"The only way to radically change the cost of heating is to harvest heat instead of burning new fuel."
"Heat pumps aren't new. They were, in fact, examined by Scottish scientists some 150 years ago. But recent technological breakthroughs can really help fight the battle against climate change."
In Glasgow it is estimated heat pumps taking water from the River Kelvin could save Glasgow University £1.6 million a year off its £2 million gas bill. At Cranhill housing estate, in the east of the city, the use of water from the Camlachie Burn, which flows under 200 homes, could reduce heating costs by 80%.
In Edinburgh, it is estimated the city's airport could reduce its energy costs by 80%, using water from the River Almond, which flows alongside its runway.
A heat pump collects warmth from the cool water in rivers and lochs – known as low-grade heat – and delivers it at a higher temperature, but must use some imported energy to do so. The technology was first described by William Thomson, the first Lord Kelvin, at Glasgow University in 1852.
Glasgow firm Star Refrigeration have successfully deployed the technology at high temperatures in the Norwegian City of Drammen, where heat is harvested from a chilly fjord to heat the equivalent of 6,000 houses. The heat is achieved at a cost of 20% of burning gas, and with zero carbon footprint or local emissions from burning fuel.
Pearson said: "An exact replica of the Drammen industrial heat pump run in the UK can generate enough heating for 6000 homes, cut CO2 emissions by 14,050 tonnes a year, and save £1,500pa per household for 20 years."
Star's pioneering large scale heat pump technology achieve temperatures of up to 90 degrees C – 45 degrees celcius warmer than conventional heat pumps – at the same efficiency, using non ozone-depleting natural refrigerants with zero global warming potential.
Heat pumps, as well as other renewable heat technologies, will be discussed at Scottish Renewables' Heat and Bioenergy Conference 2014 on April 28, when experts, industry leaders, public sector representatives and investors will debate the future of renewable heat.
The event gives a valuable face to this growing sector – a sector which has the potential to end the misery of cold homes for the 900,000 Scots households in fuel poverty, as well as making a huge contribution to our targets for a carbon-free future.
>For more information on Scottish Renewables' Heat and Bioenergy Conference 2014, to be held in Perth, see http://www.scottishrenewables.com/events/sr-heat-bioenergy-conference-2014/.
Notes to editors
The research into economic and environmental benefits of switching Scotland's business to renewable heating was carried out by Star Renewable Energy's staff and led by David Pearson.
The study looked into the carbon footprint reduction and fuel bill savings derived from deploying industrial heat pumps that use water from rivers and lochs as the heat source to supply heating to Scotland's buildings.
Dave Pearson is a graduate in Mechanical Engineering with an MBA. He has been working in different roles within The Star Refrigeration Group since 1990 and now leads Star Renewable Energy.
His technical and commercial awareness contributed to the successful deployment of the world's largest district heat-pump at 90c in Norway, a technological achievement that helped evolved the heating market towards a zero-combustion, lowest-cost future. He is a regular speaker at international seminars on the future of renewable heating technologies and a contributor of market awareness blog Heat Pumps Today.
For further information, please contact;
David Pearson,
Director of Star Renewable Energy
dpearson(at)star-ref(dot)co.uk
Tel: +44 141 638 7916 ; + 44 797 660 7746
About Star Renewable Energy
Star Renewable Energy, part of Star Refrigeration, has delivered over 30MW of heating to date including the design and installation of the world's largest 90c district heat pump and the world's largest natural refrigerant heat pump with zero global warming.
Star Refrigeration has pioneered natural cooling and heating technology since 1970. Founded in Glasgow by mechanical engineers Dr. Forbes Pearson, Anthony Brown and Bert Campbell, the company has grown to become the largest independent industrial cooling and heating engineering group in the UK, employing over 350 people.
The company's achievements in the field of technical innovation include over 100 patents in refrigeration and heating technology, and the development of the most common non ozone-depleting refrigerants used to retrofit ACR systems around the world today.
Recognised as one of the top "100 Best Companies to Work For" by The Sunday Times, the company promotes youth employment through its apprenticeship scheme.