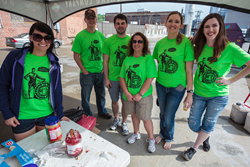 "We rely on volunteers about as much as members," says Eric Rogers, Executive Director of BikeWalkKC. "So, we like to treat them well."
Kansas City, MO (PRWEB) April 28, 2014
Kansas Citians are invited to join the community of bicycle-pedestrian advocate BikeWalkKC by volunteering their time and talent to improving conditions for area cyclists and pedestrians. Volunteers receive benefits usually reserved for donating members, including enviable membership memorabilia, and early-bird privileges to the organization's exciting fundraising events. Those who give time also get to be a part of the fun and lively community of BikeWalkKC supporters.
"We rely on volunteers about as much as members," says Eric Rogers, Executive Director of BikeWalkKC. "So, we like to treat them well."
The organization is currently signing up volunteers for two of its signature events coming in May. Volunteers can register for positions at the May 18 Tour de Bier KC and the May 22 New Belgium Clips -- Film and Beer Festival. Rogers explains that both events show the benefits of volunteering.
"Like all of our events are really fun, with great food, drink, and activities. Sure, you'll need to work as volunteer, but when your shift ends, you get to enjoy all of it, free of charge."
He adds that roles at every BikeWalkKC event vary, letting volunteers pick a job they'll really enjoy. Positions at the New Belgium Clips event, for instance, will range from bike valet to bartender. And volunteers get to interact with dozens of people inspired to improve Kansas City. Event goers and other volunteers are avid cyclists, proud pedestrians, or simply supporters of better transportation in Kansas City. Those who volunteer for these events will also get to attend a volunteer appreciation party in the beginning of June.
BikeWalkKC also regularly needs helpers for organizing mailings, staffing information tables at events, and promoting the Kansas City B-cycle bikeshare system.
Those interested in volunteering at the upcoming Tour de Bier KC or New Belgium Clips can register online at bikewalkkc/volunteer. For other events, volunteers can sign up for BikeWalkKC's mailing list at the same address for alerts about volunteer opportunities.
"Kansas City's movement for more balanced transportation is a grassroots movement," says Rogers. "Volunteering is one of the most rewarding ways to be a part of it."
About BikeWalkKC
BikeWalkKC is the unified voice for active living, promoting a healthy, safe and accessible outdoor experience for all in a vibrant, engaged community. BikeWalkKC is a member-supported organization that works to make Greater Kansas City a safer and more accessible place to walk, bicycle, live, work, and play. The advocacy programs work with local cities to improve policies and build sidewalks, trails, crosswalks, bike lanes, and more. BikeWalkKC's education programs give people the knowledge and skills to walk and to bicycle safely and confidently for transportation, recreation, and fitness. Learn more at BikeWalkKC.org.