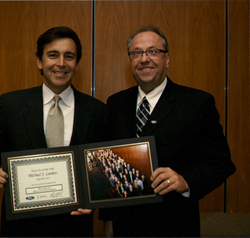 Lockport, NY (PRWEB) April 24, 2014
Michael Landers, president of Howell Motors Ford, recently participated in an intensive, four-day seminar for dealers in Dearborn, Michigan, sponsored by Ford Motor Company.
The seminar discussed ways to meet or exceed customer expectations and to help those customers be completely satisfied every time they visit the dealership to shop, buy, or lease a new or used vehicle, or to get their existing vehicle serviced.
Ford executives were involved with dealers throughout the seminar and a variety of programs that Ford provides to support dealership actions were highlighted.
As part of the seminar, dealers had a tour of an assembly plant to see for themselves how quality is built into every new Ford vehicle, that process assisted by Ford management and UAW workers sharing common goals and encouraging teamwork.
"Attending this seminar gave me a great feeling about being part of the Ford Motor Company family," said Landers. "It helped me better understand how closely the company and the dealers are connected in doing a good job for the people who drive the products we sell and service."
In addition, Howell Motors is proud to announce that Patrick O'Malley has achieved the Ford Employee Excellence Award. The award recognizes dealership employees who go further every day. Their efforts have given them the highest marks in the areas of customer satisfaction, sales, and training. These people are part of an elite group of individuals who are the very best at their craft. It's an extraordinary accomplishment, indeed.
For more information about the seminar or about Howell Motors Ford, visit their website at http://www.howellmotors.com/.
About the Company:
Howell Motors Ford dealer has served Lockport, NY since its relocation from Newfane in 1988. A company that has been around for nearly a century (founded in 1914), Howell Motors Ford is the finest new and used car dealer in the area. Featuring a full range of customer service and auto repair options, Howell Motors Ford has built a reputation that has lasted because of the full range of service and quality of cars they sell. They offer new Ford cars, crossovers, SUVs, trucks, and more. For the best service and finest products, look no further than Howell Motors Ford, one of the oldest Ford dealerships in the country.