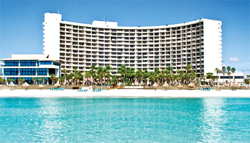 "When planning a vacation our guests are looking for a great value along with great convenience," Says Phyllis Campisi, the Assistant General Manager at the Holiday Inn Resort.
(PRWEB) April 26, 2014
The Holiday Inn Resort, Panama City Beach is excited to announce its first all All-inclusive package for the summer of 2014. The resort just rolled this great package out and they are already hearing great feedback from their guests.
For a limited time only guests can get it all for one price, for those looking to stay stay between Memorial Day and July 31st one of the many package options will be the All-Inclusive Package, where they'll be able to enjoy a beautiful Gulf-Front Room, 3 meals for 2 adults each day (kids 12 and under eat free at Holiday Inns) as well as beach chair rentals and access to all of the Premium Kids Activities. With this package guests can wake up to a beautiful view of a tropical paradise, then enjoy everything the Resort has to offer without keeping tabs on how much they've spent.
This package includes more than a gulf front room, guests will also receive:
o Breakfast for 2 adults in The View Restaurant each day
o Lunch for 2 at the Bamboo Grill or the Pizza Shack each day
o Dinner for 2 in The View Restaurant each day
o 2 Beach Chairs & an Umbrella Rental each day
o Access to Premium Kids Activities for such as Pirate Themed Lunch or Kids' Night Out, both are extended activities and include a meal for up to 2 children each day
o 2 Free drinks in the SunSet Lounge
o 2 Free drinks at the Oasis Bar
o All the great entertainment, activities, and amenities the resort has to offer
"Our guests have been requesting something like this for the last couple years. When planning a vacation our guests are looking for a great value along with great convenience - and that's exactly what they get with our new All-Inclusive Summer Package," says Phyllis Campisi, the Assistant General Manager at the Holiday Inn Resort. "This package allows them to save on the room, as well as save on the full resort experience without having to worry about budgeting every breakfast, lunch, and dinner."
For years, many have described the Holiday Inn Resort to be like a cruise ship on land. It has all the great activities and amenities – such as multiple pools, dining outlets, and bars, along with the fitness center, day spa, and great entertainment that give this resort the cruise ship feel all without leaving the shore. With the spectacular array of activities and entertainment, from the character conga line at breakfast, to the kids' activities and poolside entertainment during the afternoon, all the way to the the poolside Polynesian Fire & Dance Show, the Vegas Style Variety Show in the SunSet Lounge, or the Dive Inn Movie on the pool deck at night time, this resort is truly a destination within itself. There is so much to do right onsite, and that combined with serving great meals all throughout the day, guests can truly park their cars and not see them again till check out.
"We try to offer something for everyone in everything we do, from our entertainment to our packages," says Philip Colvin, Director of Marketing, "and with this great new package they can do it all easily for one budget friendly price."
If you're looking for a one-stop-shop for all your families vacation needs, the Holiday Inn Resort's All-inclusive package may be for you. To find out more about this resort or for more information on the All-Inclusive Package visit http://www.hipcbeach.com or call 800.633.0266.