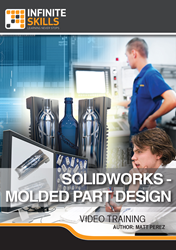 Learn SolidWorks - Molded Part Design at your own speed.
(PRWEB) April 25, 2014
Software training firm Infinite Skills Inc. this week introduced its "SolidWorks Molded Part Design Tutorial," a brief training course targeting the palette of tools and features available for modeling custom forges, casts, and other molded design elements.
SolidWorks is a CAD program that uses a parametric, feature-based assembly system for building mechanical models. Mold design in SolidWorks enables designers to easily incorporate design changes throughout the development process, through to final manufacturing.
Infinite Skills "SolidWorks Molded Part Design Tutorial" provides a detailed guide for mastering this set of tools. It begins with simple examples and develops toward a multi-body complex part, helping students begin creating molded designs in a matter of hours.
SolidWorks Molded Part Design Training Video - Streaming
Course author Dean Kerste is a college professor with more than a decade of experience in industrial design and more than twenty years' experience as a professor of mechanical design technology. Kerste began his career as a draftsman, detailing large industrial combustion systems for power generation and transitioning them into natural gas distribution systems. After working as a CAD operator and systems administrator, Kerste began pursuing a career in academics. He holds multiple degrees, including a bachelor's in industrial design and a doctorate in high education.
The course starts off with a simple molded part example. Kerste introduces fundamentals and guidelines, and demonstrates how to create drafts and templates.
The course then covers the elements of molded parts, demonstrating how to add hinges, slides, lips and grooves, and more.
From there, Kerste covers complex molded shapes, showing how to create the base shape, and add curvature and features. Other chapters cover parting line design, manual draft fixes, and performing an analysis of your model. Finally, the lessons are synthesized in a project that guides students through a multi-body complex part method.
"This course is designed to help experienced SolidWorks users get a handle on all the aspects of modeling molded parts," Kerste says.
"We'll start from scratch with the types of tools SolidWorks provides, and I'll show you how to create templates to help you create designs down the road, and help you understand what tools to focus on, as well as what they do in terms of helping you produce your models."
Free demo videos and a full list of course contents can be found on the SolidWorks - Molded Part Design Tutorial training page of the Infinite Skills website:
http://www.infiniteskills.com/training/solidworks-molded-part-design.html
Infinite Skills offers its SolidWorks Molded Part Design Tutorial as a direct download from the company website at a retail price of $24.95. Though the compatibility of programs varies, all Infinite Skills titles and formats are compatible with both Mac and Windows operating systems, and shipping is available around the globe. Additionally, Infinite Skills tutorials are supported by project files which correspond to examples in the videos.
About Infinite Skills Inc.
A leader in the field of software training, Infinite Skills designs its courses on a task-oriented model, teaching complex skills by providing hands-on examples and guiding users as they carry out essential functions. Infinite Skills offers a wide range of software titles available as DVDs, digital downloads, and in iPad editions. Infinite Skills now offers a subscription service, providing access to all its training content for a monthly fee, keeping with the company's aim of delivering professional training to customers anywhere they want to learn.