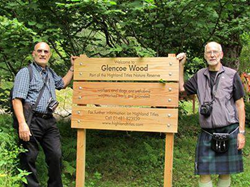 Conserving Scotland One Square Foot at a Time
(PRWEB UK) 28 April 2014
Highland Titles is a conservation organisation with a difference, so Instead of giving their supporters a membership card, like the National Trust, Highland Titles offer their supporters a wee bit hill and glen. A square foot of the land for themselves and the right to call themselves "Laird of Glencoe".
Given that customers are able to buy land and a title for the same price as a bottle of whisky, it is hardly surprising that the Highland Titles team is occasionally asked 'what can I do with one square foot of land?'
The truth is that when someone buys land from Highland Titles, they join a thriving community of like-minded landowners. It is widely accepted that ownership encourages responsibility, and since Highland Titles has made it possible to buy a piece of land in Scotland for under £30, it naturally follows that they have encouraged people all over the world to act responsibly when it comes to looking after our planet for future generations. Most notably, Highland Titles has created the Highland Titles Nature Reserve, a few miles south of Glencoe, and is now poised to begin work on their next Nature Reserve.
The strength and enthusiasm of the community is there for all to see, particularly on the company Facebook page which has over 130,000 followers. Now the Highland Titles team has arranged to personally meet with over 100 Lairds and Ladies who will be attending from as far away as Australia and Canada. The Gathering is aptly named "Homecoming"!
The Gathering will take place at Glencoe House, stately home of Lord and Lady Strathcona, now refurbished to offer 5 star suite accommodation in the heart of the Scottish Highlands.
Guests will be welcomed by the directors of Highland Titles and trustees of the Guernsey charitable trust that owns Highland Titles, with champagne and canapés, followed by a "Hog Roast". Several short presentations will then take place, in order to present an update of the considerable progress to the nature reserve since the last gathering in 2013. Local traditional craftsmen will demonstrate their products, and in line with the company's green credentials, the day will include a guided walk around the Glencoe Lochan with an opportunity to participate in our volunteer tree planting programme on the following day. The highlight of the day will be a banquet of traditional Scottish fare, with musical accompaniment by Glencoe harpist Lauren Tait.
Local supporters will have the opportunity to join us to meet the people from all over the world and all walks of life that care so much about Scotland and Glencoe.
Highland Titles Limited is a limited company registered in Alderney, No. 1599, and is wholly owned by the Highland Titles Charitable Trust for Scotland, which is a charity registered in Guernsey, Charity Number CH444.