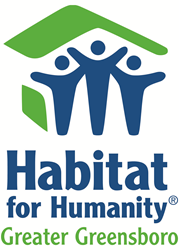 Greensboro, NC (PRWEB) April 25, 2014
On Saturday, April 26, 2014, Columbia Forest Products will partner with Habitat for Humanity of Greater Greensboro to kickoff their sponsorship of the 410th Habitat Greensboro home. Columbia Forest Products' sponsorship of this home celebrates Habitat's ministry of bringing people together to build homes, communities and hope.
The Kickoff Event is scheduled from 11 a.m. until noon at 1508 Village Crest Drive. The event will conclude with Habitat staff, Columbia Forest Products volunteers and the homeowner family joining together for the wall-raising. Those in attendance are encouraged to write blessings to the family on the newly erected frame. Columbia Forest Products has partnered with Habitat many times before, including the 25th Anniversary House at the end of 2012. Columbia Forest Products will be working throughout the coming months alongside Fousseni Amadou and Kadidjatou Bah-Traore, the future Habitat homeowners.
Fousseni, Kadidjatou and their two children will be attending. The family is thrilled to be working with Habitat Greensboro and Columbia Forest Products to provide a safe, healthy home for their family. The family is originally from Toga, West Africa. Fousseni is self-employed as a truck driver and Kadidjatou takes care of the home.
Columbia Forest Products partners with Habitat for Humanity of Greater Greensboro on numerous other projects; including Cabinets for Humanity and Raising Roofs. Recently, they hosted the new ReStore on the Move donations trailer in their parking lot. Brad Thompson, President and CEO of Columbia Forest Products, currently serves as Habitat Greensboro's Board Chair.
Brad Thompson moved Columbia Forest Products to Greensboro in 2008. He began looking for civic opportunities where his employees could become engaged in service to their new community. Brad's wife, Libby, and their son, Jacob, volunteered with their faith community, Westover Church, and shared their experiences with Brad. As Libby made inquiries into ways Columbia Forest Products could become involved, the relationship blossomed. The staff began building on the work site, serving on committees, helping with event planning and fundraising. In 2008, Brad made his first gift to Habitat toward the Raising Roofs Builders Blitz and in 2009 became personally involved by joining the Habitat Board of Directors. He has served on the Development, Governance and Finance Committees. In 2011, he agreed to chair Habitat's $4.5 million World of Hope Campaign. As the leader of the World of Hope Campaign, Brad led a dedicated group of volunteers who reached the Campaign goal six months early!
Columbia Forest Products is North America's leading manufacturer of hardwood plywood and veneer products. In 2008, Brad arranged a donation of formaldehyde-free plywood and sponsored a program to have cabinets built for all new and renovated Habitat homes in Greensboro. This generous gift in-kind spawned a program that gives back to the local organization, but also funds international builds.
Cabinets for Humanity is a partnership program in which Columbia Forest Products donates the lumber and prefabricates the cabinet parts at their mill; Habitat Greensboro then sells the cabinet components to other Habitat programs and consumers. A portion of sales from Cabinets for Humanity supports the Habitat North Carolina State Supported Organization, as well as Habitat Greensboro. The other important facet of the cabinet program is that it provides long-lasting, top-quality cabinets that are formaldehyde-free which supports health indoor air quality for the homeowners.
These are just some of the accomplishments that Habitat for Humanity of Greater Greensboro and Columbia Forest Products has achieved in just a relatively short time span. Just imagine, long after the house at 1508 Village Crest is built, and the family has moved in, how this partnership will continue to support the Greensboro community through Habitat Greensboro.