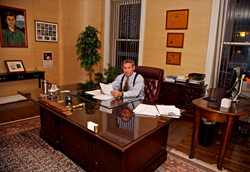 (PRWEB) April 28, 2014
Pozzuolo Rodden P.C., Philadelphia Business Law Lawyers, announces the release of the question of the month: "Is there a Bill currently before the New Jersey Legislature which would invalidate Restrictive Covenants and Non-Disclosure Agreements for unemployed individuals who are eligible to receive unemployment benefits"? If you would like to read the full article and other business law, or estate planning topics please visit us at: http://www.pozzuolo.com
Is there a Bill currently before the New Jersey Legislature which would invalidate Restrictive Covenants and Non-Disclosure Agreements for unemployed individuals who are eligible to receive unemployment benefits?
Yes, the New Jersey Assembly is considering legislation, Bill No. A-3970, that the Law Firm of Pozzuolo Rodden feels will cripple New Jersey employers' abilities to enforce noncompetition, non-solicitation agreements and non-disclosure agreements with unemployed former employees who are eligible for unemployment benefits. In other words, if the former employee is found to be eligible for unemployment compensation benefits, the proposed bill if enacted in its current form, would nullify any non-compete, non-disclosure or non-solicitation agreements the unemployed individual has with his most recent employer.
If you have any opposition to this proposed legislation, this office strongly urges you to send an email to as many New Jersey state legislators as possible. The following is a direct link to the entire New Jersey Senate and Assembly to contact your representatives directly: http://www.njleg.state.nj.us/members/abcroster.asp
Contact our Philadelphia Business & Estate Planning law firm with your questions, comments or concerns.
Pozzuolo Rodden, P.C. provides specialized cost-effective legal services to privately held business owners and high-net-worth clients in Pennsylvania and New Jersey in excess of 35 years.
Practice Areas: Business/Corporate Litigation | Business/Corporate Law | Family Law/Family Litigation | Real Estate | Employment Law | Estate Planning | Tax & Pension Law
Pozzuolo Rodden, P.C.
Counselors at Law
2033 Walnut Street
Philadelphia, PA 19103
215-977-8200
http://www.pozzuolo.com