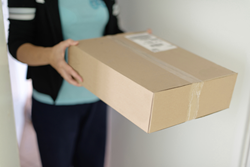 Atlanta, GA (PRWEB) April 25, 2014
AQuickDelivery, a recognized leader in same-day delivery, messenger and transportation services, announces it's call by noon pick up courier service. The announcement comes in an effort to inform customers of its variety of same-day delivery service options, expand its customer base, and increase on-time delivery rate. AQuickDelivery pursues to be the best choice in same-day courier solutions throughout Atlanta and Georgia areas.
The call by noon pick up courier service option consists of the customer's package or freight being picked up by noon and delivered by 5:30 p.m. the same day. This is a flexible same-day delivery product for destinations that do not close at the typical closing time of most business and corporations. This service time allows customers that do not have any delivery time constraints to obtain a lower service rate.
For service requests being delivered to a business or corporation, the call by noon pick up courier service is only a viable option if the destination closes at or after 5:30 p.m. For any destination locations that are closing prior to 5:30 p.m., the customer must select another service type. Depending upon the pick up ready time, customers have a number of other service types at their disposal to select from. AQuickDelivery offers their regular service, which is completed within a 2.5 hour window-time. The courier also offers its rush service, which is completed within a 1.5 hour window-time, and direct service, which is performed within 1 hour.
AQuickDelivery strives to provide its' customers with an optimal courier service solution, which in turn, creates on-time delivery improvements. For any questions or adjustments to a call by noon pick up courier service request, customers can contact the Atlanta courier 24/7 and the courier will promptly respond to meet all of their same-day delivery needs.
AQuickDelivery is a premier same-day courier offering transportation and distribution services. From small packages to palletized freight, AQuickDelivery delivers fast! As a leader in the courier industry, their goal is to perform optimal courier logistic solutions and superior customer service every time. The courier provides same-day delivery successfully for over 1,500 clients, including Fortune 500 companies.