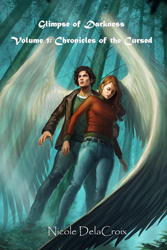 Glimpse of Darkness: Volume 1 Chronicles of the Cursedby Nicole DelacroixApril 24, 2014 • $13.95 • ISBN: 978-149-733936
Atlanta, GA (PRWEB) April 26, 2014
From the wilds of Alaska to hints of the Deep South, the journey to safety gives an imaginative view on the nature of Angels, God and how we interact with our belief structure. The series plans to take the reader on a journey from the US to some of the most exotic destinations on Earth in search of answers and reasoning seasoned with wit, humor and love culminating in revelations about our basic core natures.
Story Synopsis:
"Charlene (Charlie) Bennett is a simple waitress in the wilds of Hyder, Alaska whose father has just gone missing. Isolated and alone, her fathers' disappearance is nothing new to her, but this time things are a little different.
For starters, there is a handsome stranger, Daniel that has come to town and while Charlie has never taken more than a passing interest in strangers, she has an immediate and intense attraction to this one. Secondly, she's soon to find out that this stranger isn't what he appears. He's about to throw Charlie's entire world into a major upheaval.
Now Charlie has to decide if she believes this strangers' incredible story and follow Daniel or if she wants to stay in the only home she's ever known for an uncertain future and an absentee father. As she comes to terms with what Daniel shows her, she realizes that he's the only true thing in her life and leaves everything she knows behind to follow the handsome stranger."
About the author:
Nicole Delacroix is a first time author with a long history of story-telling and yarn spinning. Beginning in her formative years, Nicole's love of literature and the written word has taken her into forays in poetry, screenwriting, short stories and technical manuals. She currently resides outside of Atlanta Georgia, where she spends her time dreaming of the moment when she can move to London – her childhood dream.