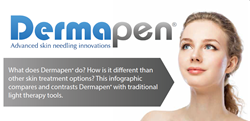 The Dermapen left my skin smooth, clear and glowing after just two treatments. Lasers are too risky for me and I'm thrilled with my Dermapen results. -- Jessica W.
Salt Lake City, UT (PRWEB) April 29, 2014
What does Dermapen do? How does it differ from other skin treatment options like energy-based therapies? Dermapen introduces a new infographic that goes head-to-head with the traditional light therapy treatment and comes out on top for many reasons.
The new Dermapen vs. Cosmetic Laser Treatments infographic will examine the differences between fractional dermabrasion of the Dermapen compared to fractional lasers, the benefits of micro-needling as opposed to the complications of light based therapy and the divergence between the two modalities as it relates to recovery time.
Visually see the most frequently asked questions and compare and contrast the newest skin rejuvenation technique to the more disruptive and painful energy-based therapy, most notably:

What each does
How the two modalities work
Applications for use
Possible side effects for both
What skin types can use either treatment
Post inflammatory hyperpigmentation precautions
Click Dermapen vs Cosmetic Laser Treatments to view the entire infographic or visit the Dermapen website to learn more about how Dermapen is the most requested skin micro-needling treatment by patients.
Dermapen is a Class 1 FDA cleared device. Indications of 878.4820 devices are: General Dermabrasion, Scar Revision, Acne Scar Revision, Tattoo Removal.